Amy Foster helps Ireland to fifth spot after day one in Crete
Last updated on .From the section Athletics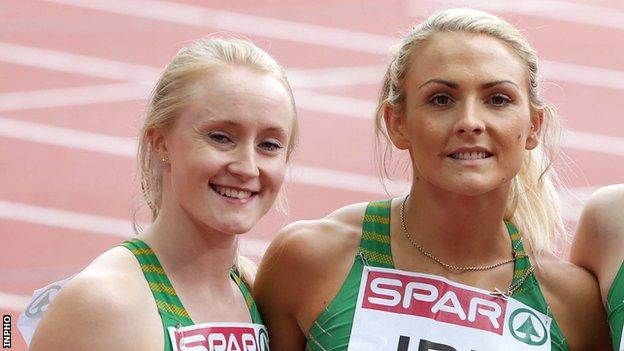 Amy Foster's third place in the 100m helped Ireland lie an impressive fifth spot after day one at the European Team Championship meeting in Crete.
Foster clocked 11.60 to clinch 10 points for the Irish in the 12-team competition in Heraklion.
Adam McMullen (7.54m) was fourth in the long jump with Christina McMahon (59.00) ninth in the 400m hurdles.
There were no Irish winners with in-form Thomas Barr having to be content with a second spot in the 400m hurdles.
Finn Valley pair Tori Pena and Dempsey McGuigan took fifth places in their field events.
Pena produced 4.15m in the pole vault, which is 45 centimetres below her personal best set in 2013, while hammer thrower McGuigan, who has a lifetime's best of 66.90, managed a mark of 64.95m.
Michelle Finn performed superbly to take third place in the women's 3000m steeplechase while Sara Treacy also impressed as she took third place in the 3000m.
Brian Gregan (400m), Kevin Batt (5000m) and Ciara Everard (800m) all clinched solid fourth places in their events.
Other performances included Marcus Lawler's ninth in the 100m in 10.73 and Eoin Everard's sixth spot over 1500m.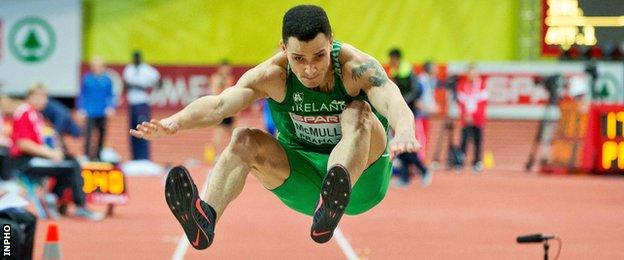 Later in the day, City of Lisburn sprinter Foster helped the Irish 4x100m relay quartet to a sixth-place finish.
Foster will race in the 200m on Sunday after Kelly Proper was ruled out of the meeting by illness.
Other Northern Ireland athletes Kerry O'Flaherty (1500m) and Ben Reynolds (110H) will also be in action on Sunday.
Newcastle woman O'Flaherty clocked 4:12.79 for the metric mile in Leixlip last weekend as she cut 1.38 seconds off her previous best.
Hurdler Reynolds is back to fitness this season after an injury-affected 2014 and clocked a wind-assisted 13.77 seconds at the recent Northern Ireland Championships.
With conditions likely to be perfect in Crete, the North Down man will be hoping to get closer to his Northern Ireland record of 13.49 set two seasons ago.
Letterkenny man and European outdoor and indoor medallist Mark English will hope to land big points for Ireland on Sunday.
The Irish will be competing in the second-tier First League competition and their first priority will be to ensure that they are not one of the two relegated countries.
Ireland comfortably avoided the drop in Estonia last year when wins from English, Brian Gregan, Barr and Paul Robinson helped them finish seventh overall in the 12-nation competition.
Other countries competing in Heraklion are Belgium, the Czech Republic, Estonia, Latvia, Lithuania, the Netherlands, Portugal, Romania, Switzerland, Turkey and the hosts.
Ireland team
Men: 100m and 200m M Lawler; 400m B Gregan; 800m M English; 1500m E Everard; 3000m J Travers; 5000m K Batt; 3000m SC J Coghlan; 110H B Reynolds; 400H T Barr; High Jump B Pender; Long Jump A McMullen; Triple Jump D Finnegan; Pole Vault I Rogers; Shot Putt S Breathnach, Discus C Quirke; Hammer D McGuigan, Javelin R Gunning; 4x100m relay Lawlier, J Browning, K Pike, E Madden, Kieran Elliott; 4x400m relay Gregan, R Morrissey, C Lynch, English, Barr
Women: 100m A Foster; 200m A Foster; 400m S Denny; 800m C Everard; 1500m K O'Flaherty; 3000m S Treacy; 5000m M McCambridge; 3000m SC M Finn; 100H S Lavin; 400H C McMahon; High Jump M Tice; Long Jump S McCarthy; Triple Jump S Buggy; Pole Vault T Pena; Shot Putt and Discus C Fitzgerald; Hammer E O'Hara; Javelin A Fitzgibbon; 4x100m Foster, Lavin, Healy, C McManus, S Creanor; 4x400m Denny, Everard, C McCallion, McMahon, Drumgoole