Mo Farah: Missing drugs tests easy - Mark Lewis-Francis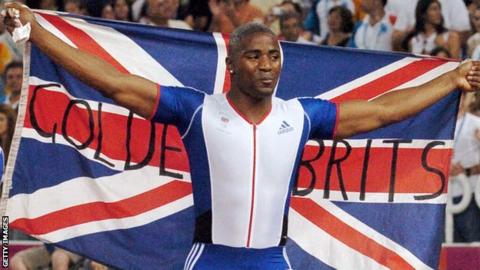 Sprinter Mark Lewis-Francis claims athletes can "very easily" miss drugs tests, but a UK Anti-Doping official says to do so twice is "unusual".
Great Britain team-mate Mo Farah, 32, missed two before he went on to win the 5,000m and 10,000m at the London 2012 Olympics.
Lewis-Francis, a gold medallist at Athens 2004, has also missed two tests.
"There's nothing to feel guilty for," the 32-year-old told BBC Radio 5 live's Sportsweek.
"People need to look at it from the athlete's point of view. I'm a clean athlete and for me it was just I made mistakes.
"It's no big deal really and if we do miss it three times we will get a ban."
Farah said he has never taken performance-enhancing drugs after doping allegations were made against his coach Alberto Salazar.
A BBC investigation reported allegations that Salazar had practised doping techniques with US athlete Galen Rupp.
The BBC documentary made no suggestion that Farah had been involved in doping. Salazar also denies the claims levelled against him.
In a statement on his Facebook page, Farah said he "fully explained" himself to the authorities on the two occasions he missed tests.
UK Anti-Doping director of legal Graham Arthur - who was not speaking specifically about Farah - acknowledged it was not a regular occurrence for an athlete to miss two tests.
"It is unusual compared to the aggregate number of tests commissioned," Arthur said. "It's not unheard of. It doesn't happen very often but it does happen.
"The rules now are slightly more favourable to athletes than they used to be.
"The old rule was three missed tests in 18 months, now it's three missed tests in 12 months."
Sportspeople in Britain missing drugs tests
Year (1 Jan to 31 Dec)
Number of missed tests or filing failures
Number of sportspeople on national registered testing pool
Number of sportspeople sitting on two strikes for missed tests
Source: UK anti-doping
2010
43
394
15
2011
66
365
9
2012
40
361
9
2013
38
318
1
2014
37
266
4
Lewis-Francis missed one test because a door bell in rented accommodation did not work and "it wasn't my house so it wasn't my place to change it".
On the other occasion he was out of the country at his scheduled testing time.
"Athletes are tested regularly in the UK. It's one of the tightest systems in the world," said Lewis-Francis, who won Olympic gold in the 4x100m at Athens 2004.
"Both times I missed them were my fault because you are responsible for your slot time.
"The public may look at it and think: 'What he is up to?' We must remember athletes have a biological passport and are tested on a regular basis."