Ben Reynolds impresses as Ireland produce best Euro Team finish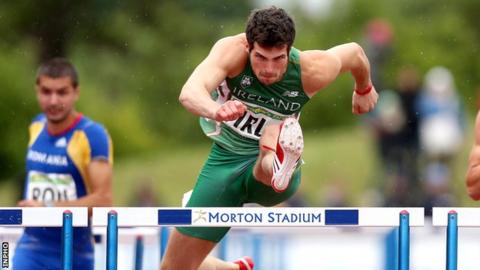 Ben Reynolds and Kerry O'Flaherty produced impressive runs to help Ireland achieve their best ever European Team Championship finish in Crete on Sunday.
Competing in the second-level, First League meeting, the Irish placed sixth overall.
Reynolds finished second in the 110m hurdles in a season's best of 13.73.
O'Flaherty took third in the women's 1500m with Mark English finishing second in the men's 800m.
English clocked 1:48.28 in the two-lap event as his somewhat below-par form over recent weeks continued.
Ireland's performance in Heraklion improved on the seventh places in the European First League meeting in 2013 and 2014.
There were no individual Irish winners over the weekend but the team earned several high finishers with several unheralded performers producing tremendous efforts.
Another top-three finisher on Sunday was John Travers, who took third in the men's 3000m.
Maria McCambridge dropped down in distance from her regular marathon event to take fourth in the women's 5000m while Finn Valley high jumper Megan Tice also earned a fourth place with a leap of 1.80m.
City of Lisburn's Amy Foster was sixth in the women's 200m with Marcus Lawler occupying the same position in the men's longer sprint.
Foster finished third in the women's 100m on Saturday with a 11.60 clocking while south Derry long jumper Adam McMullen was fourth in his event thanks to a best leap of 7.54m.
In-form Thomas Barr took second spot in the 400m hurdles while Finn Valley pair Tori Pena and Dempsey McGuigan earned fifth places in their field events.
Michelle Finn performed superbly to take third place in the women's 3000m steeplechase while Sara Treacy also impressed as she finished third in the 3000m.
The Czech Republic won the event with 351 points as they clinched promotion to the Super League along with Greece (327) and the Netherlands (299.5) while the Irish finished on 261.5 points.