Wales' Rhianwedd Price benefiting from American experience
Last updated on .From the section Wales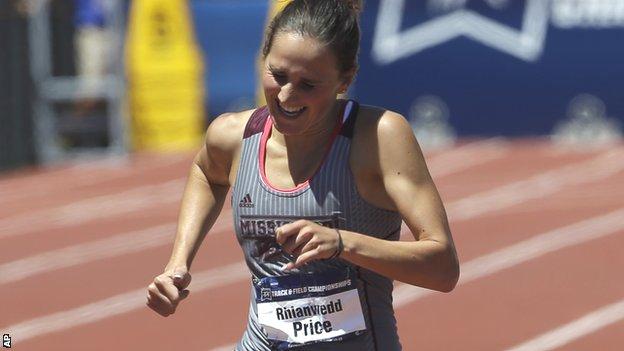 Welsh athlete Rhianwedd Price says she is reaping the rewards of spending the past two years in the United States.
The 20-year-old from Llandrindod Wells studies at Mississippi State University and has posted eight personal bests this year.
"The facilities out there are absolutely amazing," Price said.
"I couldn't have wished for anything better than to be out there and to be able to train as well as I do.
"Trying to mix that in with your education, they do it so much more efficiently out there. It's just worked so well.
"All through high school I never imagined going to America. I was set in my ways and going to stay in Britain.
"I was going to do veterinary nursing in Britain but seeing the different facilities here it wasn't really working out.
"A coach from America rang me up and offered me a position there, told me it was a full scholarship and I couldn't really turn it down."
Price won the 1500m title at the National Collegiate Athletic Association's Track and Field Championships in Eugene, Oregon.
The following week she represented Great Britain at the European Team Championships, which she described as an "amazing" experience.
And Price now hopes her appearance in Cheboksary will be the first of many wearing the GB vest.
"When I got the email to tell me that I was going to run for Great Britain I really couldn't believe it," Price told BBC Wales Sport.
"I was excited just to be there and be amongst some great athletes. It was a really good experience to be there."
Twin sister Ffion won 1500m gold at the 2011 Commonwealth Youth Games in the Isle of Man.
Rhianwedd says there is a healthy rivalry between herself and Ffion, who will join her sister in Mississippi in August.
"I've never really seen it as that competitive," she said. "My sister is definitely a lot more competitive than me. I'm a bit more laid back."