Usain Bolt drops out of Jamaican trials at short notice
Last updated on .From the section Athletics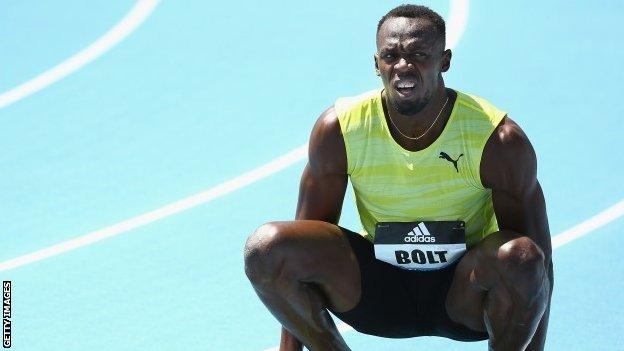 Usain Bolt has withdrawn from the 100m at the Jamaican national trials.
The 28-year-old had signed up for Thursday's race in a bid to improve his form for August's World Championships in China, which he qualifies for as defending 100m and 200m champion.
Manager Ricky Simms said: "Usain was never confirmed to run at the trials."
Bolt, the world-record holder at both distances, has had a poor season, running a best time of 10.12 seconds over 100m and 20.13 for 200m.
He was scheduled to take part in the trials ahead of Diamond League races in Paris and Lausanne next month.
But Simms said: "He put his name in to have the option. I already told the media that coach [Glen] Mills would make a decision on Wednesday if he needed the race or if he preferred him to train ahead of Paris or Lausanne."
Bolt is an eight-time world champion and has won six Olympic gold medals in his career.
Usain Bolt's honours
Six Olympic gold medals:
100m, 200m & 4x100m - Beijing 2008; 100m, 200m & 4x100m - London 2012
Eight World Championships gold medals:
100m, 200m & 4x100m - Berlin 2009; 200m & 4x100m - Daegu 2011; 100m, 200m & 4x100m - Moscow 2013
One Commonwealth Games gold medal:
4x100m - Glasgow 2014
World records:
9.58secs (100m); 19.19secs (200m)