Chris O'Hare says he needed to move from Scotland
Last updated on .From the section Athletics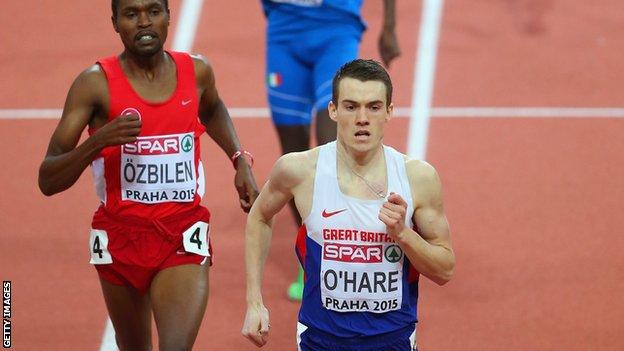 Chris O'Hare believes he would not have won European bronze medals indoors and outdoors had he remained in Scotland.
The 24-year-old 1500m runner moved to the United States for a sports science degree at University of Tulsa and is now based in Boston.
"Unfortunately, it goes back to the amount of money that is put into developmental sport," said O'Hare.
"I wouldn't be the athlete I am now had I not gone to America. I did all of my development outside of Scotland."
O'Hare, who was born and brought up in West Linton, south of Edinburgh, said the facilities, level of coaching, plus nutrition, psychological and mechanical support, he received in the USA was vital.
"Meadowbank to West Linton is a 45-minute drive - an hour to an hour and 15 minutes in traffic - and to do that three or four times a week was a lot and was not ideal for recovery to sit for an hour in the car after you've just finishing training," O'Hare told BBC Scotland.

O'Hare won his outdoor bronze in Zurich in 2014 and followed that up with an indoor third in Prague this year.
"Once you've got a bit of an achievement behind you, it gives you confidence to push you past what used to be the comfort zone," he said.
"The British Championship is next weekend, so hopefully I can head down there and get first or second and then try to hit the qualification time and be preparing for the world championships in Beijing after that."
Despite those podium finishes, O'Hare said last year's Commonwealth Games, when he finished sixth in Glasgow, remains a highlight.
"When you've got a European bronze medal, everybody would assume that is the highlight of the season," he said.
"But, even before the race started and standing on the start line in Glasgow, and having 50,000 people in Hampden cheering and knowing most of them were cheering for you, it was pretty special and will be hard to beat."