Usain Bolt: Can the Jamaican sprint star find the fast lane again?
Last updated on .From the section Athletics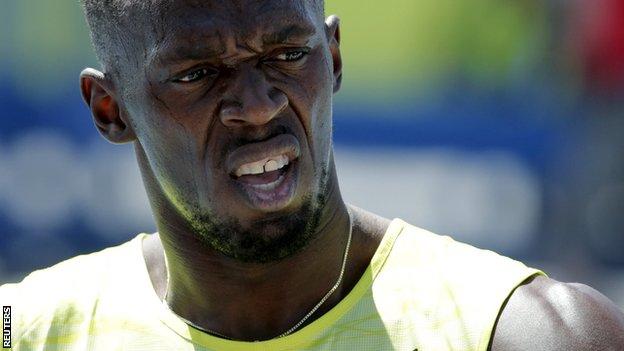 With less than two months until the World Championships in Beijing, two-time Olympic 100m and 200m champion Usain Bolt is injured and off his game.
BBC World Service looks at what the immediate future holds for the 28-year-old Jamaican, one of the biggest names in sport.
Just how badly is he running?
He hasn't run much at all in 2015. Five times, in fact, if you include his outing in the World Relays in May.
He has competed only once over 100m, clocking a pedestrian 10.12 seconds in April. Over 200m, his best time is a sluggish 20.13secs.
Don't forget, this is a man who has set world record times of 9.58 and 19.19 respectively, albeit six years ago.
Contrast Bolt's form with that of Justin Gatlin, who has clocked 9.74 for the 100m and 19.57 for the 200m in 2015.
Is Bolt's form a surprise?
After an injury-plagued 2014, during which he had foot surgery, you could excuse Bolt being a little rusty.
But he described his most recent 200m outing in New York as "really bad" and admitted he was puzzled by his poor performances.
Now it appears another injury was to blame, a pelvic problem that is restricting his movement.
He has flown to Germany to see Dr Hans-Wilhelm Muller-Wohlfahrt, who has treated several sport stars.
Can Dr Muller-Wohlfahrt fix him?
The German is a controversial figure, having used goat's blood and a substance extracted from the crest of cockerels to treat his patients.
But Bolt has used him before, as have former England midfielder Steven Gerrard, marathon world record holder Paula Radcliffe and golfer Jose Maria Olazabal. Even U2 frontman Bono has sought his advice.
Former England cricketer Alex Tudor is another to have turned to Bayern Munich's former club doctor in a bid to prolong his career.
Tudor described Dr Muller Wohlfahrt as a "great man" and is confident will have Bolt "running very soon and breaking more records".
Bolt's honours
Six Olympic gold medals:
100m, 200m & 4x100m - Beijing 2008; 100m, 200m & 4x100m - London 2012
Eight World Championships gold medals:
100m, 200m & 4x100m - Berlin 2009; 200m & 4x100m - Daegu 2011; 100m, 200m & 4x100m - Moscow 2013
One Commonwealth Games gold medal:
4x100m - Glasgow 2014
World records:
9.58secs (100m); 19.19secs (200m)
Can Bolt be ready for the World Championships?
They start in a little over seven weeks on 22 August, so he has time - and he doesn't have to qualify as defending 100m and 200m champion.
But his coach, Glen Mills, has told the World Service he is "concerned".
It's worth noting that Bolt struggled at the start of 2012 but bounced back to claim another Olympic double in London that year.
"I want to give him the benefit of the doubt given he's always been ready when it matters most," said Jamaican athletics journalist Kayon Raynor.
Should he bypass Beijing?
Yes, says Ato Boldon, the 1997 200m world champion and 100m silver medallist at the 2000 Olympics in Sydney.
He says Bolt should focus on running well at Rio 2016 and cementing his Olympic legacy.
"I would only show up to Beijing if I knew that I was capable of performing at the level that everybody is used to seeing me," said Boldon.
"If he shows up and loses, psychologically that will sort of change things come Rio next year."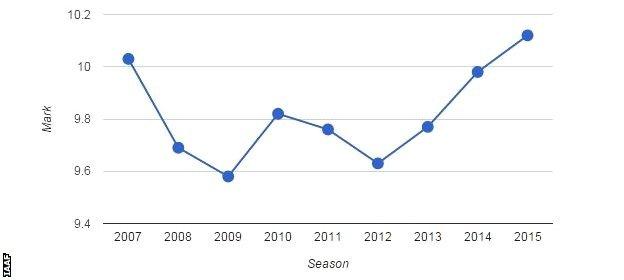 Can Bolt really stop Gatlin?
Gatlin, the 33-year-old American and 2004 Olympic 100m champion, is getting quicker and quicker.
He has set the two fastest 100m times (0.10secs quicker than anyone else) and four fastest 200m times (0.36secs quicker than anyone else) this year.
But he is not the only one running well. US compatriots Tyson Gay and 19-year-old Trayvon Bromell have clocked 9.87 and 9.84 respectively.
Another Jamaican, former 100m world record holder Asafa Powell, is also in top form. He has twice run 9.84 this season, most recently last week.
So when will Bolt run next?
It is difficult to tell and it all depends on how his recovery goes, but he is still targeting the Worlds in Beijing, which run from 22-30 August.
Bolt has no firm commitments after pulling out of the Diamond League meetings in Paris on Saturday and Lausanne next week.
But there will be no shortage of takers should one of the biggest draws in sport suddenly approach any track meets with a late request.
However, the only Diamond League meetings left before the Worlds are in Monaco (17 July), London (24-25 July) and Stockholm (30 July).
Interviews by John Bennett, Lee James and Ade Adedoyin.
UK users can watch highlights from Saturday's Diamond League meeting in Paris on BBC Two on Sunday at 13:20 BST.
Ed Harry will be at the Stade de France for the BBC's World Service.