Mo Farah says he is 100% clean after allegations about coach
Last updated on .From the section Athletics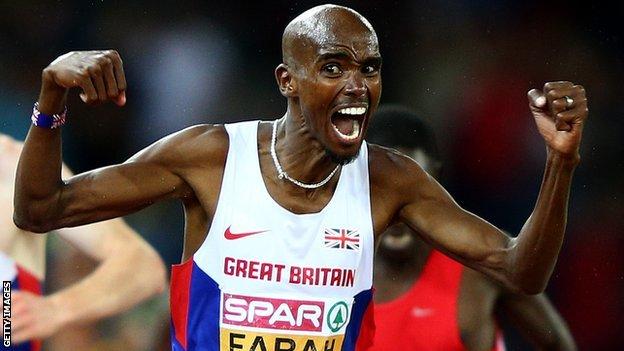 British double Olympic champion Mo Farah says he is "100% clean", following doping allegations against his coach Alberto Salazar.
UK Anti-Doping (Ukad) and the US Anti-Doping Agency (Usada) are investigating claims made in the BBC Panorama programme Catch Me If You Can.
It alleged Salazar violated various anti-doping rules and used testosterone medication on Galen Rupp in 2002, when the US athlete was 16.
Salazar and Rupp deny all the claims.
There is no suggestion made in the joint investigation by the BBC and US journalism website ProPublica that Farah has been involved in any doping.
Distance runner Farah, 32, told Sky Sports that for people to think he had "taken a shortcut" was "not right and not fair".
London 2012 10,000m silver medallist Rupp is a training partner of Farah. Both athletes are part of Salazar's Nike Oregon Project.
Salazar, 56, last week issued a 12,000-word denial of the allegations, backed by emails and other documents, saying he "will never permit doping" at his US training base.
Farah, who won both the 5,000m and 10,000m at the London Olympics, said he would leave the Cuba-born American if the allegations against him are proven by the athletics authorities.
"If he has crossed the line and it is proven he's crossed the line, then yes I'm out," said Farah.
"These are just allegations. If there is wrongdoing then I'm the first person to run, but you have to give people a chance in life and give them the benefit of the doubt.
"I work hard every day. I put my body through hell. Seven months of the year I am away from my family and I miss their birthdays. That really kills me.
"So for people to label me a cheat is not fair. If I am a cheat, prove it. If not, leave me alone to represent my country and make people proud of me.
"I want people to know I am 100 per cent clean and I am not on any drugs. The only medication I am on is for asthma which I have had since I was a child."
Asked about missing two drugs tests before the London 2012 Olympics, Farah said that he had taken 148 drug tests since 2008, including 103 since the Games, adding "every single one has been negative".