British Championships: No problem with 'plastic Brits' - Cram
Last updated on .From the section Athletics
British Championships
Venue:
Birmingham.
Dates:
3-5 July
Coverage:
BBC Two and online on Sunday, 5 July 14:20-18:00 BST
The country's elite athletes face a make or break weekend at the British Championships as they attempt to qualify for the World Championships in Beijing in August. BBC athletics commentator Steve Cram has assessed the debate over 'plastic Brits' which has re-emerged, the events to look out for this weekend and focused on two major names in the sport - Mo Farah and Usain Bolt - who have contended with difficult seasons.
'Plastic Brits' - I've got no problem with it
This weekend, Zharnel Hughes - born in the British overseas territory of Anguilla - and the United States-born trio of Cindy Ofili, Shante Little and Montene Speight will all take part at the British Championships for the first time after being ruled eligible to compete for Team GB.
I've got no problem with this 'plastic Brits' issue, which we've been through before. It's not a real issue, because as long as they're eligible, they are free to compete for Great Britain. There are many sportsmen and women who weren't born in this country who compete for GB in other sports.
The whole idea of who is eligible from a nationality perspective is silly. If they are eligible, then they are eligible. I could go back to the Zola Budd thing in the 1980s - she came from South Africa and ran for Britain at the 1984 Olympics.
Some might argue that they didn't train in the British system but, in fact, there's no system here. There's a funding programme, but below that there isn't anything. People can learn to be an athlete in any part of the world. There's no investment in athletics clubs in Britain, which means only those who run here are eligible to run for Britain.
I guess the big issue is that newcomers arriving puts others in the team under a lot of pressure. But that can happen if an athlete pops up from anywhere - it doesn't matter where they were born.
If you think you were shoo-in to get into the team and somebody else pops up you weren't expecting, then you have to deal with that.
By the way, nobody complained that Lorraine Ugen developed into a world-class long jumper while at college in United States. Similarly, Chris O'Hare spent four years at college in the US, developing into a world-class 1500m runner. No one complained about that, either.
Events to watch this weekend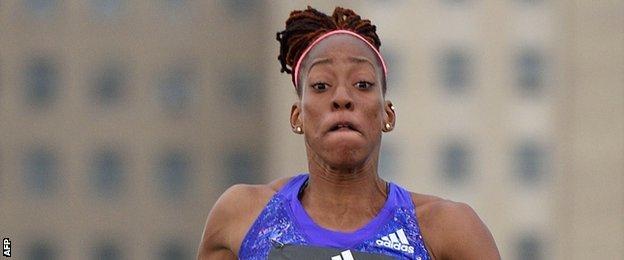 I just mentioned Lorraine in the women's long jump. She jumped 6.92m recently in Doha and put herself third on the British all-time list. She will be great competition for British record holder Shara Proctor and Katarina Johnson-Thompson.
It's just as exciting in the men's event, with Olympic champion Greg Rutherford facing British indoor champion Dan Bramble. Dan had never leapt further than 8m prior to the April event in Clermont, where he managed a personal best of 8.21m.
We also have an exciting 100m hurdles to look forward to. European indoor medallists Serita Solomon and Lucy Hatton, who have run well below 13 seconds this season, will be up against British number one Tiffany Porter and her sister Cindy Ofili, who has not competed in this environment before. Jessica Ennis-Hill is also in the line-up, although she will be looking to get a time close to 13 seconds.
The pressure will be on. It's the sort of race in which people can make mistakes. Put Jess to one side and there are four contenders for three spots.
Injured Adam Gemili to miss out
British sprinter Adam Gemili will not be present in Birmingham, having been injured at the Grand Prix in the city back in June. And it remains unclear whether he'll make the Worlds.
He would have had a good chance of winning a medal in the 200m in Beijing, although it would have been difficult to pick one up in the more competitive 100m.
It's a shame what happened to him - he'll be a miss. Adam said he's going to take his time to get better and might race again towards the end of the season.
But this is a massive two years or so for him, with the Rio Olympics then the Worlds in London in 2017. This injury is rather untimely considering he was in great form, but I'm sure he won't rush back because next season will be big.
Mo Farah set for Lausanne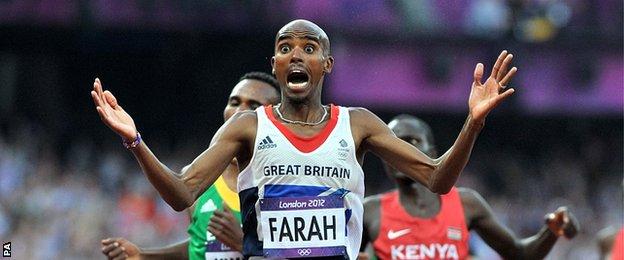 I think with Mo set to race in Lausanne next week (9 July), he has been trying to move matters to racing and what he does best. It's the right thing to do. It's out of his hands in terms of what happens next.
He's made his decision about his coach Alberto Salazar, which is fine. He's 100% committed to that relationship. He wants to knuckle down and get on with it. However, the question is whether people allow him to.
He has to prepare for Beijing in the best way he can. He's chosen his preparation races. He'll be in Lausanne, Monaco then hopefully the Anniversary Games in late July. Sadly, he will have to deal with people poking cameras at him and shoving microphones under his nose. I don't understand why that would happen. He's said what he has to say.
Mo will be pleased to get back on the track. As far as I know, training has gone well. Lausanne will be interesting because he has not run too many Diamond League races when that quality of field is there. The main focus for him is getting in the right shape for the 10,000m in Beijing, and maybe the 5,000m.
Will Bolt be ready for the Worlds?
It's a bit of a race against time for the world 100m and 200m champion Usain Bolt, who will miss the Paris and Lausanne meetings because of a pelvic injury.
He did look awful in New York last month when he only managed 20.29 seconds in the 200m. It just wasn't the Usain we know. Although we now know it was partly because of the injury which means he can't run at 100%.
Before Beijing, he needs another three or four races. An unfit Usain Bolt is not what people want to see - or what he wants. If he can treat this injury and get three more races in, he can still be in Beijing and be a force.
But perhaps he could wait until next year or at least run races at the end of season, and then knuckle down to get ready for the Olympics.