Island Games 2015: Guernsey beat Jersey to men's relay golds
Last updated on .From the section Athletics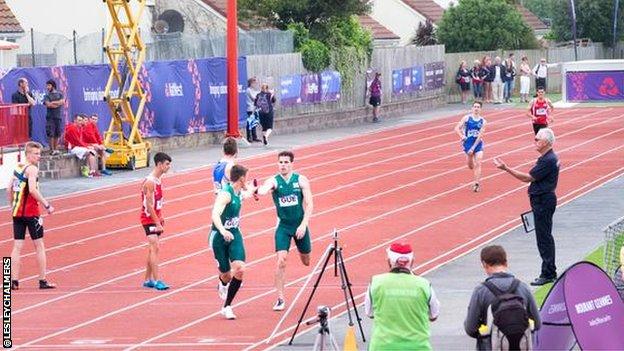 Guernsey won both men's relay gold medals on the final day of the Island Games, with Jersey taking the silvers.
Joshua Allaway, Dale Garland and Sam Wallbridge ran in both the 4x100m and 4x400m finals for Guernsey.
They were joined by Alastair Chalmers in the 100m relay, while Cameron Chalmers stepped in for the 400m race.
Jersey also finished second in both of the women's relays, with their Channel Islands rivals taking bronze in each of the finals.
In the men's 100m relay, Guernsey finished less than three tenths of a second ahead of the Jersey quartet of Sam Dawkins, Ross Jeffs, Bill Porter and Philip Williams.
The 400m relay was more clear-cut as Guernsey crossed the line more than three seconds clear of Dawkins, Elliott Dorey, Peter Irving and Stanley Livingston, who represented the hosts.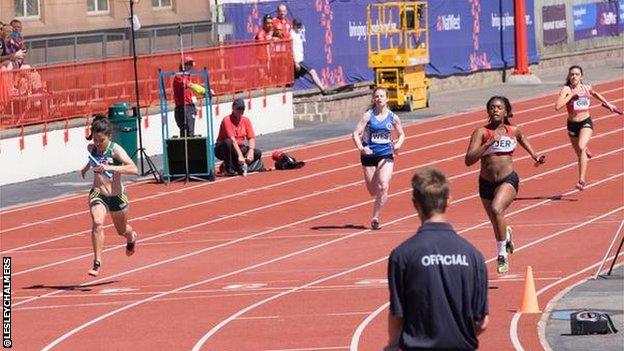 Jersey's Helen Butler-Day, Claire Lidster, Katrina Lindsay and Ogubemi Popo claimed women's 4x100m silver behind the Shetland Islands, but ahead of Guernsey quartet Hannah Barrett, Eleanor Gallagher, Victoria Mann and Sara Marley.
In the 4x400m relay, the Isle of Man won the gold with Gemma Dawkins, Hazel Le Cornu, Gemma Gothard and Yasmin Lookess taking silver for Jersey, with Katie Rowe, Natalie Whitty and Rebecca Toll joining Gallagher as Guernsey crossed in third.
In other events, Jersey's Elliot Dorey took his first medal of the Games in the 1500m, finishing second behind Ynys Mon's Iolo Hughes.
Jeffs leapt 14.39m in the triple jump to take his second silver for the day for Jersey, but was pipped to the gold by Savvas Diakonikolas, representing Rhodes, by just three centimetres.
Meanwhile, Guernsey's Whitty added bronze in the 800m to her third placed finish in the women's 4x400m relay.