Dina Asher-Smith & Chijindu Ujah take British 100m titles
Last updated on .From the section Athletics
Dina Asher-Smith set a British Championships record to claim the 100m title in Birmingham on Sunday.
The 19-year-old clocked 11.08 seconds at Alexander Stadium - just six hundredths of a second off the national record she set in May.
Chijindu Ujah, 21, ran 10.1 seconds to beat James Dasaolu in the men's 100m as they also qualified for August's World Championships in Beijing.
Laura Muir took the 1500m title and Greg Rutherford won the long jump.
How athletes qualify for World Championships
Athletes must finish in the top two at the British Championships. They must also meet the qualifying time/distance/height for their event at least twice during the season or be European champion.
Athletes who finish in the top two and meet the qualification standard in their event just once in the season could be selected for the World Championships if UK Athletics feel they have medal potential or are an athlete with prospects of medal success at future Olympic Games.
Defending world champions such as Mo Farah and Christine Ohuruogu automatically qualify
Muir, 22, is in stunning form - in June she produced the fifth-fastest time this year - and will have hopes of improving on her World Championships semi-final place from 2013 when the competition begins on 22 August.
The Scot ran a 60-second 400m stretch between 800m and 1200m in Birmingham to drop Laura Weightman, who is also guaranteed a seat on the plane to China.
Team GB delivered three gold medals and three bronzes at the 2013 World Championships in Russia and though many places on the team have now been determined, selectors will finalise the group by 28 July.
Ujah takes first national title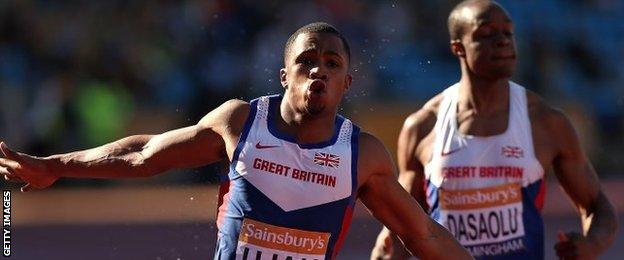 Ujah, the 2013 European Junior Champion who broke 10 seconds last season, proved too much for Dasaolu, 27, and will have the chance to build on his growing reputation in Beijing.
"I really wanted both the indoor and outdoor British titles this year and to come out and do both of them this year at the age of 21 is good and I can build on this now," he said.
Asher-Smith destroyed the field in the women's event and though her best of 11.02 seconds is only the 19th-quickest time in the world this year, her pedigree as World junior champion last year provides Team GB with a realistic future medal hope.
"That was a tremendous performance," said BBC Sport pundit Colin Jackson. "Birmingham as a track is very blustery but look at the performance with the wind accounted for that is a sub-11 performance."
I was dreadful today - Rutherford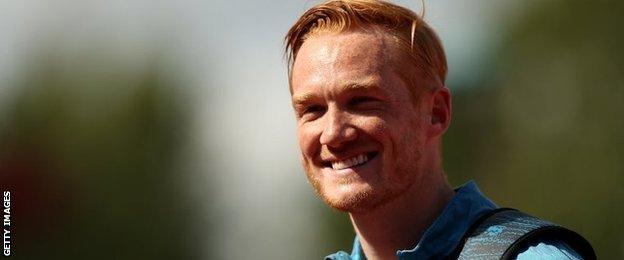 Olympic and European champion Rutherford is yet to top the podium at a World Championships - placing fifth in 2009 - but has already jumped further this season than the mark achieved in winning gold at London 2012.
Rutherford, 28, jumped 8.35m in Birmingham in June - the fifth-best mark of 2015 - but only managed 8.11 on Sunday to take the British title ahead of Daniel Bramble (8.04m).
"I was dreadful today," Rutherford told BBC Sport. "My jumping today was terrible. I was missing that spark at the end to take off and do anything decent. I may add an extra competition in now next week. I feel pretty flat."
American Jeff Henderson leads the world rankings, having achieved 8.50m and 8,44m already this year.
Chrissy O will never let us down - Lewis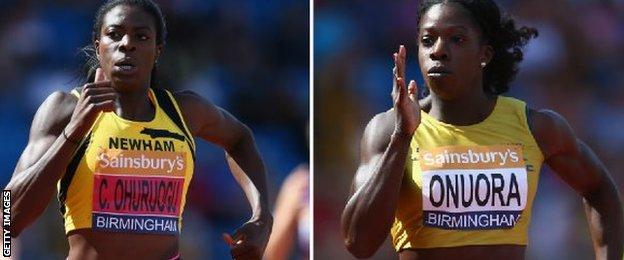 Christine Ohuruogu "will never let us down" according to BBC Sport pundit Denise Lewis after the 2012 Olympic silver medallist was beaten to the domestic title by Anyika Onuora in Birmingham.
Onuora has converted to 400m from being a 100 and 200m specialist and after clocking 51.87 will go to the World Championships to compete alongside Ohuruogu - who had already qualified courtesy of her status as defending world champion.
"It's been a tough start to the season," said Ohuruogu after her 52.04 effort. "I just wanted to get out here today, test myself, see where I'm at and now go back and train for six weeks."
Lewis added: "Christine looked good. We know what she is capable of doing and she knows how to peak for championships."
Big names miss out
From claiming World Championship gold in 2011, Welsh 400m hurdler Dai Greene has endured a torrid run of injuries and confessed to only doing one hurdles training session in two months prior to the British Championships.

Perhaps unsurprisingly Greene could not compete at the sharp end of the final and has not secured a place in the Team GB team for the Worlds, as his 50.82 time - almost three seconds down on his personal best - only secured third.
Niall Flannery retained his British title but must run sub 49.50 twice in the next three weeks to guarantee a place at the major championships and long-standing Team GB servant Martyn Rooney, 28, also faces uncertainty.
After being beaten into third by Rabah Yousif Bkheit and Jarryd Dunn, Rooney will wait to see if the selectors favour him or Matthew Hudson-Smith for a third 400m spot as both have attained the qualifying time.
What about Ennis-Hill and KJT?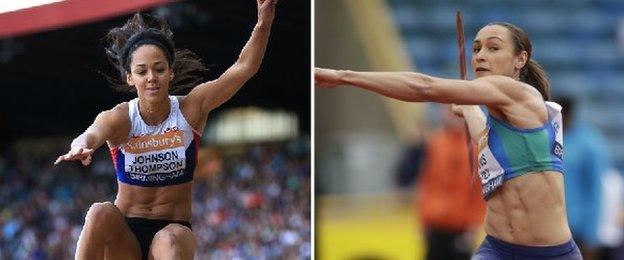 Jessica Ennis-Hill and Katarina Johnson-Thompson offer real medal hopes in China and the prospect of an exciting duel for heptathlon glory.
Both could be on the start line as Ennis-Hill qualifies courtesy of her performance in a recent combined events meeting in Austria.
And though Johnson-Thompson has not completed a heptathlon this year, UK Athletics is expected to pick her.
Neither were in scintillating form in Birmingham as they competed in individual events with Johnson-Thompson placing third in the long jump.
Ennis-Hill achieved the same position over 100m hurdles, but struggled with the javelin and revealed she is not yet sure if she will take part in the World Championships.
"I need to see how the next few weeks go in training," said Ennis-Hill. "I want to see if I'm in really good shape to be a medal contender. If I'm not quite going to be there I will have to get a good block of training and come out strong next year."
Who else is going to China?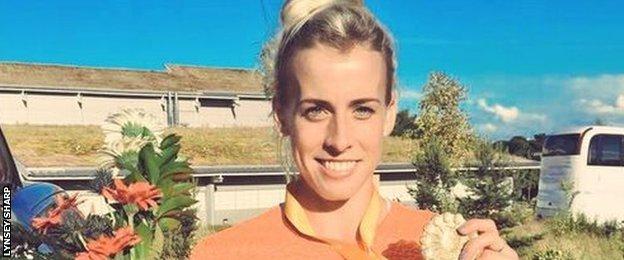 European champion Eilidh Child dominated her 400m hurdles final to defend her British title in 55.57 from Meghan Beesley as both qualified for Beijing with minimal fuss.
Lynsey Sharp won the 800m in 2:02.40, holding off Shelayna Oskan-Clarke.
And 2012 Olympic bronze medallist Robbie Grabarz has secured a place at the World Championships with a 2.28m leap in the high jump, enough to win the national title.