Lynsey Sharp, Laura Muir and Eilidh Child head for Beijing
Last updated on .From the section Athletics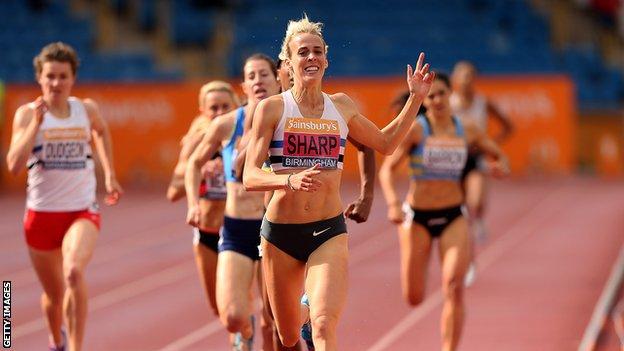 Laura Muir, Eilidh Child and Lynsey Sharp booked their places for the World Championships in Beijing after British title wins in Birmingham.
Fellow Scot Lennie Waite took gold in the 3,000m steeplechase on Saturday.
Steph Twell won the 5,000m ahead of Laura Whittle, while Chris O'Hare (1,500m), David Smith (high jump), Mark Dry (hammer) also took silver medals.
Child won the 400m hurdles, Sharp also retained her title, in the 800m, while Muir impressed in the 1,500m final.
Muir's victory in 4:10.37 was viewed by many observers as the performance of the day after she clocked a mid-race 60-second lap to finish well clear of England's Laura Weightman.
The 22-year-old told BBC Sport: "Laura is a really tough runner, so I knew I would have to put my best game out today and just really attack it and that's what I did.
"We thought about it quite hard and had to play to my strengths really and I know I'm really fit just now and I can run a good couple of last laps."
Child was delighted to be sure of a place in the World Championships in China from 22-30 August after her win in 55.57 ahead of England's Meghan Beesley.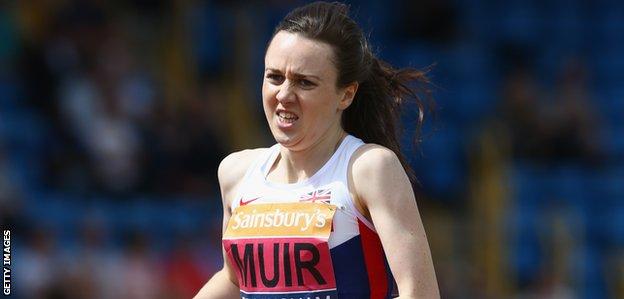 "Qualifying done, box ticked, I can now focus on going to Beijing," said the 28-year-old.
"It was really difficult out there today - it was really blowy and it was tough to get a fast time, but I'm delighted just to get the win."
Sharp held off the challenge of England's Shelayna Oskan-Clarke in the home straight to win in 2:02.40.
"I was so up for this weekend," said the 24-year-old. "My last race in New York I wasn't happy with so I've been really working hard in training and mentally just to get things right for this weekend and it's paid off.
"I just felt so good. It wasn't the plan to go to the front, but I found myself there and just adapted.
"I've got a few more races as it is a while to Beijing. It's getting to the business end of the season, which I enjoy the most and I'm looking forward to it."
Twell, who missed the Beijing Olympics with a foot problem and needs another qualifying time to compete in China this time, was pleased to have put her injury woes behind her.
"It is fantastic," said the 25-year-old. "I'm feeling fit, healthy and I knew I was in contention today.
"I got the win, which was what I needed. I've had to work gradually at it to get my pathway back and it feels really special."