Rio 2016: Elijah Skervin dreaming of Olympics sprint relay spot
Last updated on .From the section Athletics
British sprinter Elijah Skervin says that qualifying for the Rio Olympics would be a "dream come true."
The 23-year-old has set his sights on making the Team GB relay squad for the 2016 Games, which start next August.
Skervin, who trains in Loughborough, is the fastest ever 100m male runner from the East Midlands, with a best time of 10.33 seconds.
"Everyone wants to go to an Olympics and making Rio would be phenomenal," Skervin told BBC Radio Nottingham.
He finished fifth in his 100m semi-final at the British Championships on Sunday, clocking a disappointing 10.60 seconds.
And he knows he will have to improve to realise his Rio dream.
He added: "To make the Olympic team, I'd have to go to the [British] Championships, put down a time, put down a position, and then they (the National Olympic Committee) can say 'right, he's done this, he's done that."
After missing out on London 2012 because of a torn hamstring, Skervin said the disappointment had fuelled his determination to race in Brazil.
"I was out of it completely from the heats. It was a case of looking in and thinking 'I really want this'," he added.
"Especially seeing how well our GB guys did, it was even more motivation to push on and do it. The next one (Olympics) is a real possibility."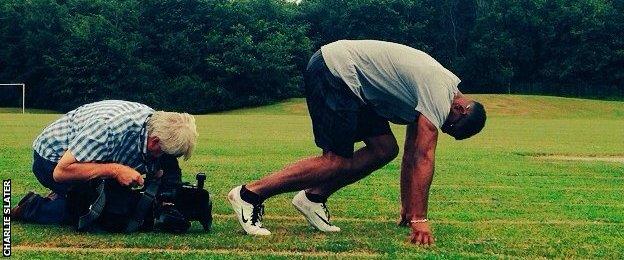 Skervin, who works full time at Big Wood Academy school in Nottingham as a pastoral support manager, said that balancing work and athletics was "really difficult".
"You come into work tired from training, you go into training tired from work," he said. "It's mentally draining and physically tough on the body as well".
He is looking at the positives, however, and believes that his new coach, former British athlete Graham Hedman, who won the silver medal in the 4x400 metre relay at the 2006 European Athletics Championships, will help him to achieve his goals.
"With the new coach, I'm always learning," Skervin added. "By the time we get to next year we'll have the near perfect form for myself and we'll be able to push towards a 10.10 or 10.0 run."