Kerry O'Flaherty achieves Olympic steeplechase standard
Last updated on .From the section Athletics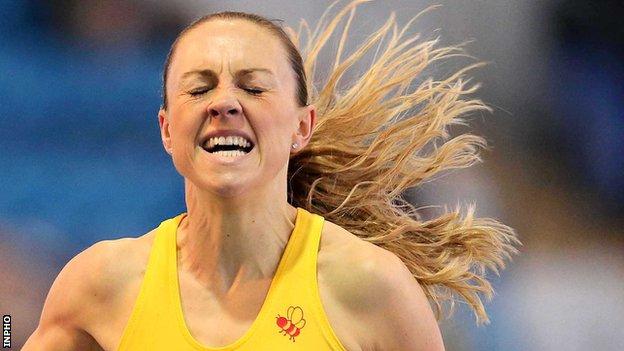 County Down woman Kerry O'Flaherty has put herself in line for Olympic selection by achieving the Rio Games 3,000m steeplechase standard.
O'Flaherty was the first of three Irish athletes to duck under the required time at a meeting in Letterkenny.
Her time of 9:42.61 was more than nine seconds inside her PB as she finished runner-up to American Jamie Cheever.
O'Flaherty's compatriots Michelle Finn (9:43.34) and Sara Treacy (9:44:15) were also under the Olympic standard.
Dunboyne athlete Treacy was just outside the 9:44.00 standard for next month's World Championships in Beijing but O'Flaherty and Finn can now look forward to trips to the Chinese capital.
The women's 3000m steeplechase was the featured event at the meeting held at the Danny McDaid Track.
O'Flaherty, 33, achieved her previous best and Northern Ireland record of 9:51.64 in Spain last month.
The Newcastle woman described herself as "over the moon" following her major breakthrough.
"I still can't believe what we did last night and at home in Ireland," O'Flaherty said on Saturday morning.
"A big thanks to my coach and partner Richard Rodgers for sticking with me for nearly the past decade and believing in my dreams."
The athlete also thanked Geoff Watkin for helping with her endurance for the event and Tom Reynolds who has aided O'Flaherty's hurdling technique in recent times.
In other races at the meeting, American Jon Peterson won the mile in 4:00.07 with South Africa's Lebakeny Sesele winning the 100m in a track record of 10.36 second.
Meawhile, Donegal man Mark English finished eighth in the 800m final at the European U23 Championships in Tallinn.
English, who has been struggling for form because of a sciatic injury, clocked 1:50.42 while Irish team-mate Karl Griffin was sixth in 1:48.79.