Usain Bolt v Justin Gatlin could produce 'crazy' time - Campbell
By Aimee Lewis
BBC Sport at Queen Elizabeth Olympic Park
Last updated on .From the section Athletics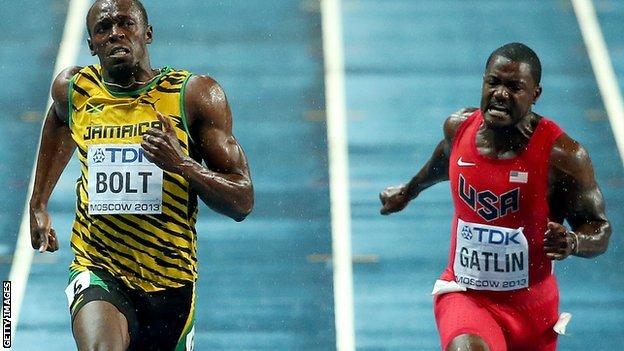 Usain Bolt and Justin Gatlin's rivalry can produce a "crazy" 100m time at August's World Championships, says ex-British sprinter Darren Campbell.
Campbell believes Bolt's performances at London's Olympic Stadium prove the Jamaican can challenge the year's fastest sprinter Gatlin.
"They both believe they can win gold. That makes it exciting," he said.
Campbell, a former world 100m bronze medallist, added: "Now Bolt's in shape, he has 100% belief. Gatlin definitely believes he can win and that's what potentially will bring out a crazy time in Beijng.
"Rivalries are important because it makes people dig deeper."
Injury and poor form meant Bolt had run just once over 100m in 2015 prior to Friday, a lacklustre 10.12 in Brazil in April.
But in wet conditions he twice dipped below 10 seconds for the first time this year, on the track where he won three of his six Olympic titles.
The 28-year-old secured victory in his heat with ease and while beating his rivals in the final was more of a challenge, he equalled his impressive qualifying time - the joint sixth fastest time of the year.
According to BBC Radio 5 live pundit Campbell, the two races this weekend confirmed Bolt - who withdrew from two Diamond League meetings this month with a pelvic problem - looked in "good shape".
"It's important people understand that the injury he had would be similar to having a car with one flat tyre," explained Campbell.
"Usain Bolt's strength is his stride and for him not to be able to get the stride length means he won't get rhythm so you can understand how that would play a big part in why his times were down.
"The performances were very impressive just because of the conditions, they were terrible. We do know the Olympic Stadium's track is quick, but you have to be in shape to put out that time.
"We saw that shift in gear he has when he gets to 40m, when he starts to open up his stride, and it's still there. That first 30 to 40m he can work on. These final three weeks before the championships he will sharpen up, but Gatlin is a real threat."
Will Gatlin be worried?
American Gatlin, a two-time drug cheat, has established himself as the world's dominant male sprinter this year.
The 9.74 personal best he clocked in Doha in May continues to be the world-leading time, and he has gone under 9.8 four times in 2015 - 9.74, 9.75, 9.75, 9.78.
Campbell believes the criticism Gatlin continues to receive after returning to the sport following a second doping ban suggests the 33-year-old is not easily ruffled.
"Set aside what he's done with regards to the drugs, as a competitor, as a character, Gatlin doesn't let many things bother him and that's important as a sportsperson," added Campbell.
"I don't think he'll be scared. He's a real competitor, someone who can dig deep. He won't quit. He thinks he has the beating of Bolt.
"But I can now get excited about the Worlds because, before Friday, Gatlin was the red-hot favourite and that can be a bit boring."
Does the sport need a Bolt victory?
In August Bolt will return to the Bird's Nest, to the track where he achieved his stunning world records in the 100m and 200m to win his first Olympic titles.
The Jamaican's best over both distances remain the best there has ever been and the six-time Olympic champion still possesses the three fastest 100m times in history.
But there is a possibility that Gatlin could win gold in an event clouded by doping, potentially beating defending champion Bolt - the athlete who transcends his sport and is regarded by many as its saviour.
"It's important the biggest superstar is at the major championships and performing well," said Campbell.
Tale of the tape

Bolt

Gatlin

28

Age

33

6

Olympic golds

1

9.58

Personal best

9.74

9.87

2015 best

9.74

31

Number of sub-9.90 second runs

19

0

Doping bans

2
"It's also important we see the human side of the story: about coming back from adversity. In Gatlin's case, he created his own problems but, to a degree, he's come back from it. Bolt hasn't had his best year and now he's coming back.
"They are two stories, two totally different paths, which will be played out at the World Championships, and that's what's important for the sport.
"But what's also important for the sport is that the photo we see at the end is Bolt's hand rising up in victory as he crosses the line because, if it's Gatlin, I don't know where it leads us. No-one knows the ramifications of that."