Seven Scots named in GB World Championships team
By Jane Lewis
BBC Scotland
Last updated on .From the section Athletics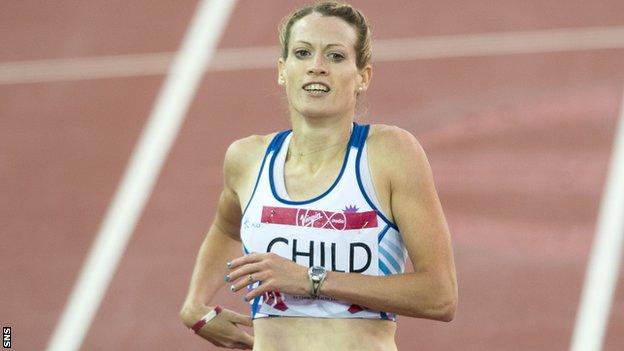 Seven Scots have been named in Great Britain's team for next month's World Athletics Championships in Beijing.
Five of them were selected after meeting the required standard in their discipline.
Eilidh Child (400m hurdles and 4x400m relay), Lynsey Sharp (800m), Laura Muir (1500m), Steph Twell (5000m) and Mark Dry (hammer) all qualfied for the team.
The other two - Kirsten McAslan (4x400m relay) and Chris O'Hare (1500m) - were handed "selectors picks".
O'Hare took the bronze medal at this year's European Indoor Championships, while McAslan gave the selectors something to think about after winning gold at the European Under-23 Championships.
But 3000m steeplechase runner Lennie Waite missed out after failing to meet the required qualifying standard twice ahead of the selection meeting.
It will be European champion Child's fourth World Championships and she told BBC Scotland she feels "in good shape" following her latest run on Friday.
"I ran at the Anniversary Games in pretty rubbish conditions and I ran quite close to my personal best and my season's best," she said.

"I feel like I'm timing things well this season, I'm coming in to shape at the right time.''
Child, who won a silver medal in the hurdles at the 2014 Commonwealth Games and gold at the European Championships, admits last year was huge for her and acknowledges that much is expected of her now compared to previous years.
''Glasgow was great, but I've never been to a championships with that much attention on me in terms of media coverage and things like that," she said.
"And then, when I went to the Euros, I was ranked number one in Europe, so there was the pressure of being the person who should win."
Child believes last year was a stepping stone for the coming campaign.
''Hopefully I can improve upon what I've done and I can do something at the Worlds," she said.
''The Worlds are totally different from the Euros - USA and the Jamaicans are strong in my event.
"No-one is miles ahead, but there's a lot of us around the same time. So it's just about who brings it on the day, who deals with the surroundings well.''
Dry will be making his first appearance at the World Championships.

"I'm absolutely buzzing," he said. "So many years I've come close, had one standard and not quite made it, or there's been an injury or something that's got in the way.
"Finally, to be automatically qualified, it's a big weight off my shoulders. It's a big relief."
Dry, who won bronze at Glasgow 2014, says to qualify automatically is a "dream scenario".
"You kind of want to make all the championships," he said. "I've been to two Commonwealth Games, I was at the European Championships in Helsinki.
"This will be my first World Championships and hopefully I'll make Rio for my first Olympics.
"You don't want to be waiting with one standard thinking: 'I'm close, will they take me. That was the situation with London 2012 and it's pretty stressful.
"It's was pretty tough qualifying standard of 76 metres for us to get there.
"If you can produce that sort of distance when you're there in qualifying, if you can go 75-plus, then you're going to make the final.
"I'm capable of making the final and putting in a good performance."