Leaked IAAF doping files: IOC will act with 'zero tolerance'
Last updated on .From the section Athletics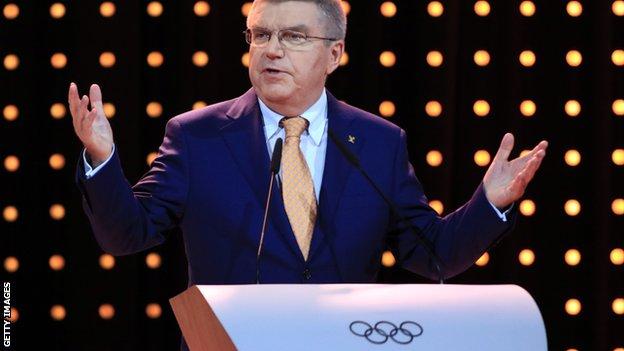 The International Olympic Committee will act with "zero tolerance" should allegations of widespread doping in athletics be proven, says president Thomas Bach.
The data belongs to the International Association of Athletics Federations.
Bach said: "At this time we've nothing more than allegations and we have to respect the presumption of innocence."
The blood-test data, covering the period between 2001 and 2012, was leaked by a whistle-blower to a German broadcaster and the Sunday Times.
"If there should be cases involving results at Olympic Games, the IOC will act with zero tolerance with our usual policy," said Bach.
What are the claims?
The Sunday Times and German broadcaster ARD/WDR obtained access to the results of 12,000 blood tests from 5,000 athletes.
The files - seen by the BBC - show a third of all medals in endurance events (146, including 55 golds) at Olympics and World Championships were won by athletes who recorded suspicious tests, according to independent experts who have analysed the data.
More than 800 athletes - one in seven of those named in the files - recorded blood tests described by one of the experts as "highly suggestive of doping or at the very least abnormal".
The data is not proof of doping - but the revelations raise more serious questions over whether the sport is doing enough to combat cheating.
What is blood doping?
Sports nutritionist Eleanor Jones says blood doping can help endurance athletes by increasing their ability to transport oxygen around the body.
She told BBC Radio 5 live: "It works like giving blood, except that after you've replaced that donation naturally in your body, you then reinfuse the blood that you removed originally, so you might have 110% of your normal blood volume."
Who will investigate?
An independent commission of the World Anti-Doping Agency (Wada) will investigate the claims in the ARD/WDR documentary Doping - Top Secret: The Shadowy World of Athletics.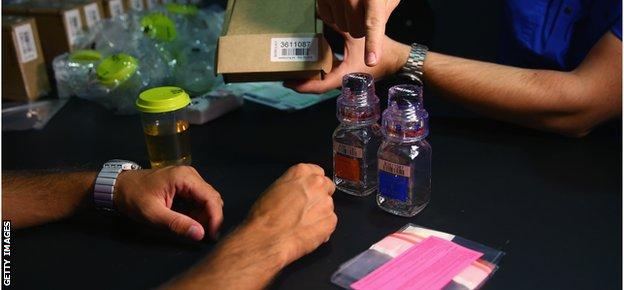 Lord Coe, who is standing to become the next IAAF president, said the governing body would react with a "robust and detailed response" to the allegations.
Coe, who is the favourite to win the presidential election against fellow IAAF vice-president Sergey Bubka on 19 August, has made independent testing a key part of his manifesto.
The IAAF said the data had been obtained "without consent" and it reserved the right to take any follow-up action necessary.
Could athletes be stripped of their medals?
Scientists Robin Parisotto and Michael Ashenden - described as two of the world's foremost anti-doping experts - reviewed the leaked data.
According to them, the database reveals:
Ten medals at London 2012 were won by athletes who have dubious test results, while in some finals every athlete in the top three had recorded a suspicious blood test.
British athletes, including Olympic heptathlon champion Jessica Ennis-Hill, have lost out in major events to competitors who were under suspicion.
Earlier this year, Ennis-Hill appealed to the IAAF to upgrade the silver medal she won at the 2011 World Championships after gold medallist Tatyana Chernova was banned for doping. That event was not covered in the Russian's annulled results.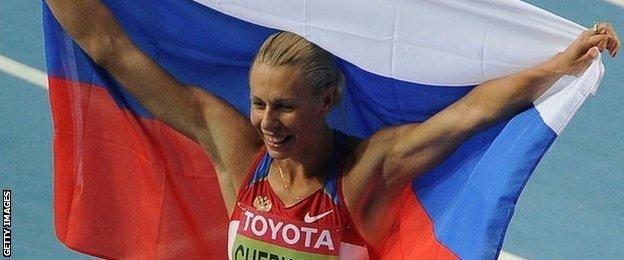 The IOC can strip athletes of their Olympic medals, as can the international governing body of each Olympic sport.
In 2007, American sprinter Marion Jones's five medals from the 2000 Games were taken from her after she admitted taking banned substances.
More recently, the entire US 4x100m relay team were stripped of their London 2012 Olympic silver medals as a consequence of Tyson Gay's drugs ban.
What has been the response?
Dick Pound, a former president of Wada, said athletics would face a "major crisis" if the allegations were true.
Current president Sir Craig Reedie said his organisation was "very disturbed" by the report.
Outgoing IAAF president Lamine Diack said suggestions his organisation had been negligent in the drug-testing of athletes was "laughable".
The 82-year-old also told the IOC it was a campaign to redistribute medals.
"I believe that the IAAF has always shown that it is absolutely aware that it cannot allow doubts about the performances accomplished by athletes," he said.
"Behind all this is a desire to redistribute medals, take care of this."
Rooney 'shocked' by numbers
British 400m champion Martyn Rooney told BBC Radio 5 live the number of 'suspicious' blood tests was "shocking".
But he added: "These figures can be slightly misleading. An athlete could have a cold and that could change a lot of things.
"It's very unfair to say every suspicious test means an athlete is doping."
British cyclist and three-time Olympic champion Jason Kenny, whose sport has been muddied by doping problems, said athletes had to believe that cheats would be caught.
"You have to have faith in the system," he told BBC Radio 5 live.
"It's really bad for the sport when these scandals come out but, ultimately, if it helps to weed out the bad eggs it's positive, particularly as an athlete because there's nothing you want less than getting beat by someone who's cheating."