Martyn Rooney succeeds in World Championship selection appeal
Last updated on .From the section Athletics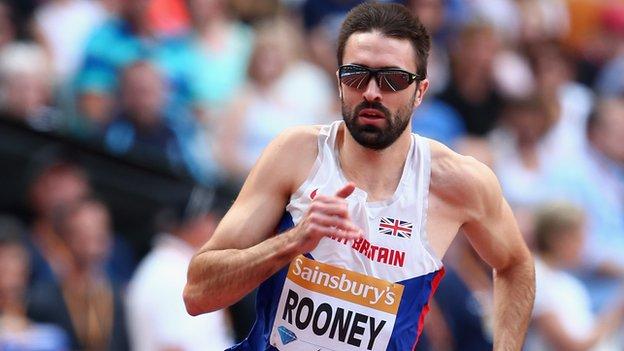 Great Britain's Martyn Rooney has won his appeal after he was not selected for the individual 400m at August's World Championships in Beijing.
Rooney was in the 400m relay squad but appealed to UK Athletics over his failure to make the individual event.
The 28-year-old said it was a "shame" he had to go to appeal but felt like he had "won a massive court case".
Steeplechaser Lennie Waite and 10,000m runner Andy Vernon last week lost their appeals over being omitted.
Rooney, the reigning 400m European champion, will now be part of the 62-strong Great Britain squad heading to China.
He ran a season best of 45.41 seconds to finish third in the 400m at the Stockholm Diamond League meeting last week in a performance which may have helped his appeal.
Rooney beat fellow Briton Rabah Yousif Bkheit, who had been included for the individual 400m in the original GB squad, as well as American Tony McQuay, who won silver at the 2013 World Championships.
"Unfortunately, there are some things that I am not allowed to say with the appeal process," Rooney told BBC Radio Leicester.
"I don't think Stockholm hurt my chances.
"Beating the people that I beat in Stockholm showed that I'm more than capable of racing against the best guys in the world and that's pretty much the criteria they wanted us to hit."
What are the rules?
To qualify for selection, athletes must either be a reigning world or European champion, or finish in the top two at the British Championships and run inside the qualifying time twice.
If an athlete makes the qualifying time once, they may still be selected if the British Athletics selection panel feels they have "realistic potential to finish in the top eight in their event" in Beijing, or they are "a developing athlete" who is progressing towards future Olympic medal success.
Athletes omitted from the British squad could appeal against the decision on the basis that the selection policy had not been followed or that there was a factual error in the selection decision.