Doping allegations sensationalist and confusing - IAAF
Last updated on .From the section Athletics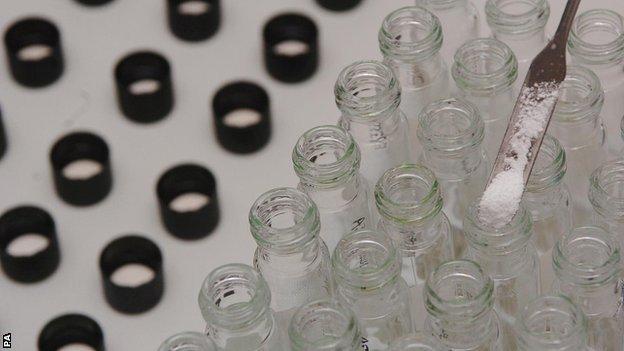 Allegations of widespread doping in athletics are "sensationalist and confusing", according to the sport's world governing body.
The IAAF, whose data was leaked, stressed the results referred to were not positive tests or proof of doping.
It also rejected the suggestion it had done nothing to act upon data showing "suspicious" results.
The Sunday Times and German broadcaster ARD/WDR obtained access to the results of 12,000 blood tests between 2001 and 2012.
An IAAF statement said: "Any reporting by the ARD and Sunday Times that the IAAF was negligent in addressing or following up the suspicious profiles is simply false, disappointing and misinformed journalism.
"In an attempt to catch and sanction the cheats in our sport, the IAAF has used every means available to it within the anti-doping framework it operates in."
In a detailed response, it also denied the data was "secret" and said it had published a detailed analysis of it more than four years ago.
It did, though, "condemn in the strongest possible terms the distribution, sharing, and publication of private and confidential medical data that was obtained from the IAAF without consent."
Mike Costello, athletics correspondent for BBC Radio 5 Live.
"With the credibility of the organisation and the sport at stake, the IAAF are in defiant mood.
"They point out that four years ago they published a similar study showing on average 14% of athletes were doping with the level as high as 48% in some countries. This is to counter allegations they ignored suspicious results."
'Simply guesswork'
The allegations claimed more than 800 athletes - and a third of all medallists in endurance events at recent Olympics and World Championships - had suspicious blood test results which were not followed up by the IAAF.
The IAAF though "refuted outright" any allegation it did not appropriately follow up suspicious profiles.
It said: "What the IAAF cannot accept under any circumstances from the ARD/Sunday Times, or the scientists whom they have retained, is an accusation that it has breached its primary duty to act in the best interests of the sport of athletics.
"The experts have never worked for the IAAF and are therefore in no position to make any comment regarding what the IAAF has done or not done in the development and implementation of its blood and urine target testing program.
"To do so is simply guesswork on their part. The IAAF categorically refutes all allegations made by ARD and The Sunday Times and, specifically, that it failed in its duty to pursue an effective blood testing programme at all times."
The statement also says it did follow up suspicious results on six specific athletes, saying: "In fact, as the newspaper was told before publication, each test led to intensive follow-up, as a result of which the six athletes were subsequently caught cheating and banned."
What is blood doping?
Sports nutritionist Eleanor Jones says blood doping can help endurance athletes by increasing their ability to transport oxygen around the body.
She told
BBC Radio 5 live:
"It works like giving blood, except that after you've replaced that donation naturally in your body, you then reinfuse the blood that you removed originally, so you might have 110% of your normal blood volume."
'No evidence of doping'
The Sunday Times and ARD/WDR used two of the world's "foremost anti-doping experts", scientists Robin Parisotto and Michael Ashenden, to review the data and they said while "abnormal" results were not proof of doping, they were suspicious.
The IAAF countered that the reports offer no new evidence that any athlete had failed a drugs test.
A statement from the governing body said a large proportion of the blood samples were collected in a period before the implementation of the Athlete Biological Passport (ABP) and could not be used as proof of doping.
"The IAAF quite rightly operates within an anti-doping framework, provided by WADA, where suspicion alone does not equal proof of doping. Any reporting or insinuation of such is wholly irresponsible on behalf of these media outlets," it said.
"While the ARD and The Sunday Times may wish to pretend they have a 'scoop' by reporting on suspected prevalence of doping, their efforts are in fact over four years behind those of the IAAF."
Stats the IAAF wants you to know
The IAAF has conducted more than 19,000 blood-screening tests since 2001, which is the most comprehensive and universal blood-testing programme implemented among sports

The IAAF followed up vigorously and consistently on all blood-screening results considered as atypical by its experts in accordance with the procedures and protocols then applicable

The IAAF had an anti-doping budget of $2,030,000 in 2014 and $2,030,000 in 2015

The IAAF Medical and Anti-Doping Department has 10 full-time personnel