Ciara Mageean asks not to be considered for Beijing selection
Last updated on .From the section Athletics
Ciara Mageean will miss the World Championships in Beijing later this month after she asked not to be considered for selection.
Athletics Ireland announced an initial 11-strong selection on Monday but Mageean could have been added to the team under the IAAF's new quota system.
That is available to non-qualified athletes who are in the top 50 in this year's world rankings.
Given Mageean's history of injuries, she has opted not to compete in China.
The Portaferry woman, 23, continued her impressive form in recent weeks as she clinched the 800m title at the Irish Championships at Santry on Sunday.
That followed impressive performances over the last month as she posted her second fastest ever 1500m time of 4:08.32 and also set a new Northern Ireland mile record of 4:30.64.
Mageean admitted after Sunday's win that she was undecided over whether to accept a possible invitation to compete in Beijing.
"I'll have to make a decision, it's an honour to represent my country," explained Mageean after her impressive front-running victory over Laura Crowe (2:04.17) and Ciara Everard (2:07.42)..
"I'll have to talk it through with my coach (Jerry Kiernan), just the way my body has been with injuries, it's something I will have to consider."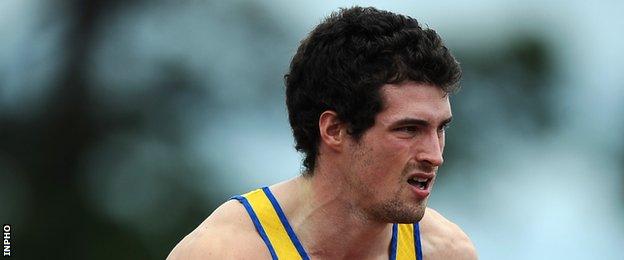 Mageean missed all of the 2013 season and much of 2014 after being troubled by an ankle injury.
After returning to action last winter, Mageean was then forced to pull out of the European Indoor Championships in March after suffering an injury on her other foot.
Like Mageean, Holywood hurdler Ben Reynolds is also currently in a position to be added to the Ireland team later this week under the new IAAF competition rules and he has indicated that he is keen to race in China.
Kelly Proper (200m), Sara Treacy (3000m steeplechase) and Ciara Everard (800m) are in the same category and will also hope for good news later this week.
The 11-strong team announced by Athletics Ireland on Monday includes Letterkenny man Mark English, county Down steeplechaser Kerry O'Flaherty and defending world 50K walk champion Robert Heffernan.
Cork man Heffernan's Beijing preparations suffered a jolt on Sunday when he was disqualified for lifting in the 10K event at the Irish Championships.
However, Heffernan insists that he remains upbeat for his world title defence.
"I feel good. My training has gone well the last month," said Heffernan.
English, who has won European outdoor silver and European indoor bronze over the last year, looks to be rounding into form again after struggles in the early part of this summer.
400m hurdler Thomas Barr will also be chasing a final place in his event after improving his Irish record to 48.65 in Rome in June.
Ireland team (initial selection)
Thomas Barr (400H), Mark English (800m), Kerry O'Flaherty (3000m steeplechase), Michelle Finn (3000m steeplechase), Tori Pena (pole vault), Alex Wright (20km/50km walk), Robert Heffernan (50km walk), Brendan Boyce (50km walk); 4x400m (Thomas Barr, Mark English, Brian Gregan, Brian Murphy, Richard Morrissey, Timmy Crowe)