Nick Symmonds: Team USA 800m star a 'sport reformer'

Last updated on .From the section Athletics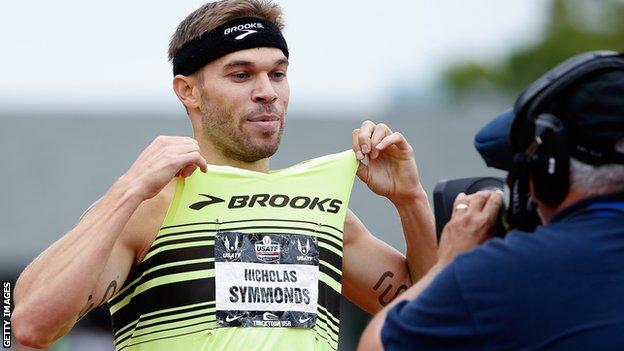 IAAF World Championships on the BBC
Venue:
Bird's Nest Stadium, Beijing
Dates:
22-30 August
Coverage:
Live on BBC TV, Red Button, Radio 5 live, online, mobiles, tablets and app
For an event that is usually won by the athlete who slows down the least, American 800m runner Clayton Murphy is getting faster and faster.
Coming into 2015, Murphy had not beaten one minute 50 seconds for the two-lap race - a time that has not been internationally competitive for almost half a century.
So it would be fair to describe his victory at the Pan American Games in Toronto last month - America's first in this event since 1999 - as a surprise, particularly as it was the first time Murphy had been outside the US.
For Murphy, the next stop is Beijing, whereas Nick Symmonds, the man he replaces in the US World Championships squad and the country's best hope of an 800m medal, is left at home.
Murphy, 20, earned his passage to Canada with a fourth-place finish at the US Nationals in June, when he improved his time to record a new personal best of one minute 45.59 seconds.
This was just about internationally competitive, but it was timely as it has also earned him the berth for Beijing.
Meanwhile six-time US champion Symmonds reached the final at the last three World Championships and the London Olympics and won silver at Moscow 2013.
But USA Track & Field (USATF), the sport's governing body, has dropped Symmonds in a row that looks like a trivial spat over what an athlete can wear to breakfast, but is actually an argument about athletics' viability as a professional sport in the US and elsewhere.
There could also be implications for international competition in other sports, too, particularly the Olympics.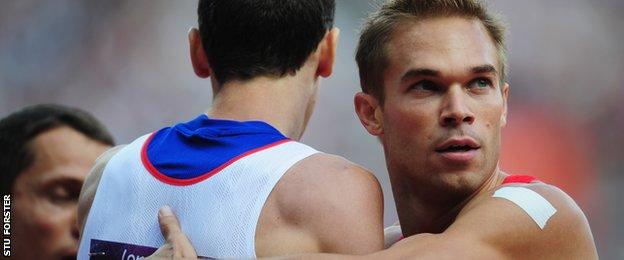 But before we get to the possible outcomes of USATF's decision to give Murphy his moment instead of a solid medal prospect, let us return to the starting line.
Last year, USATF extended its link with Nike, the Oregon-based sports giant, to 2040 in a deal worth a reported $500m (£321m), or £12m a year, plus signing bonus - a huge sum for an organisation with total revenues of about £8m in 2013.
USATF uses that money in much the same way as UK Athletics - funding grassroots initiatives, training coaches, hosting events and giving "stipends" to athletes. It says it will invest about £9m in athletes this year, much of that coming from Nike.
In return, Nike expects - as Adidas, Puma or any other major supplier would expect - American teams to wear the right kit on international duty, and that expectation is made contractual by the USATF "statement of conditions" that Symmonds was meant to sign after his victory in June.
But June became July, and as the 9 August deadline loomed for USATF to submit its Beijing squad to the International Association of Athletics Federation (IAAF), it became clear that Symmonds was not going to sign this contract.
He was also not going to do as he was told when his kit was delivered with the instruction: "Please pack ONLY Team USA, Nike or non-branded apparel and be sure to bring your Team USA gear."
That last piece of advice was sensible as the email had earlier read: "You are required to wear Nike Team USA apparel at all team functions throughout the trip, including at the athlete hotel, during training, press conferences, competition and award ceremonies."
Apparel, in this instance, is everything apart from shoes, sunglasses and watch, as they count as equipment, and team functions…well, therein begins the problem.
Symmonds does not wear Nike gear when running for anybody other than Team USA.
He used to but, like several other US athletes in recent years, he left the all-encompassing embrace of the world's most profitable sports brand to wear clothes and shoes made by somebody else; in his case, Seattle-based running specialists Brooks.

The 31-year-old was wearing Brooks' distinctive yellow and black kit when he won that sixth national title, just as he was wearing Brooks clothing while drinking coffee at the team hotel for the World Indoors in March 2014. He was told off for that and reminded of the contract he had signed, which stated he was to wear the gear supplied by Nike.
His reply was to deny signing the contract - USATF maintains it had his electronic signature - and to question if his breakfast cuppa constituted an official team function.
Much has happened since that stand-off and none of it has helped signpost a path to compromise.
First, Nike and USATF raised the stakes by signing a more lucrative and long-term sponsorship deal.
Second, Symmonds' desire to control his own advertising space has hardened to the point he has become something of a hero to other athletes less able or willing to take on the sport's major sponsor and/or their governing body.
On his personal website, the biography says he "strives to assist struggling athletes to obtain sponsorship" and that he is "determined to change the sport's governing bodies' marketing restrictions which only allow minimal advertising dollars to reach track athletes".
He has certainly backed up his words with deeds, auctioning off space to an advertising company for a temporary tattoo on his shoulder in 2012. He then repeated the trick with tattoos depicting the logos of his own brand of caffeinated chewing gum on his biceps this summer.
So USATF cannot say it was not warned, and what had been a tit-for-tat dispute between them on social media has now exploded.
On Monday, Symmonds wrote a first-person piece for The Huffington Post that not only summarises the dispute over what is and what is not an official team function - but demands a greater share of the sport's revenues for athletes and an inquiry into what he claims happened to more than £2m of unaccounted revenue in USATF's accounts.
He is also threatening to sue USATF for dropping him.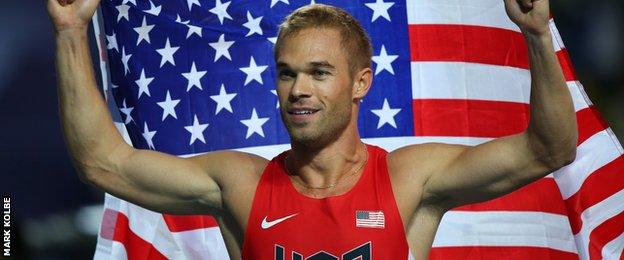 Symmonds was already receiving a lot of Twitter love from fellow athletes and coaches prior to the confirmation of his exclusion from the team, but there is now an online petition with 2,500 supporters set up to have him reinstated, as well as a #LetNickRun hashtag, and athletics is back on the national sports radar.
USATF's response so far has looked a little flat-footed in comparison, with Nike saying nothing.
It is true that Symmonds is far from being the only member of the US team in Beijing to have a personal deal with a company other than Nike.
It is also true, as the USATF's public affairs chief Jill Geer told me, that it uses some of Nike's money to pay for track meets to be televised - a situation that says much about the sport's status in the US - and it is that platform that makes athletes more attractive to sponsors.
But to compare NBA superstars LeBron James (Nike) and Steph Curry (Under Armour), who recently met in the NBA Finals wearing uniforms supplied by league sponsor Adidas, to the relative paupers of American track and field is a tad disingenuous.
Symmonds, certainly, is not buying that one.
"Jill Geer saying Steph Curry doesn't whine about wearing Adidas when he's an Under Armour athlete…Jill, Steph's getting paid a lot of money by the NBA," he said recently.
"There is a great deal of revenue-sharing going on in the NBA that's not taking place at USATF, so that's the dumbest analogy I've ever heard.
"When USATF starts paying all members of the Worlds team a salary, we'll shut our mouths, but as it is, they don't."
In case USATF was wondering what he had in mind in terms of a fair split, Symmonds explained all in his Huffington Post piece.
He cited research by American economist Andrew Zimbalist that track and field athletes only receive about 8% of the governing body's revenues, whereas professionals in other individual sports can expect 25-35% and professionals in the major team sports get about half of the available cash.
Symmonds calls 8% "insultingly low" and wants "at least half of gross revenue". He may struggle on that front - as the USATF is evidently not the NBA, NFL or even MLS - but he has at least opened negotiations.
In response to the allegation, USATF on Tuesday issued a breakdown of how it spends its money, estimating about half of its budget went to its athletes.
"USATF in 2015 anticipates that we will spend roughly 50% of our $30 million budget, or more than $15 million, on a combination of cash paid directly to athletes, USATF payment of athlete costs and high performance programmes that support elite athletes," it said in a statement.
Where Symmonds may have more luck, and support for his efforts, is in helping USATF to redraft its statement of conditions.
Even the governing body privately says the current state of affairs is ambiguous, but adds that the contract can only be altered by its legislative arm and that must wait until the next AGM, which is later this year.
In the meantime, Symmonds gets to play at being Spartacus but misses out on a chance to do what underpins all of his commercial activities, winning medals; while USATF safeguards the funding it needs to function as a governing body but comes across as a money-chasing bully.
Arguably, the only winner here is Brooks, which now looks like the cuddly alternative to Nike, with its poster boys, the twice-banned Justin Gatlin and under-investigation coach Alberto Salazar.
But the most surprising aspect of this whole situation is that it has not happened more often, and the fear for governing bodies is that Symmonds has started something that could catch on - Nike also supplies the US Olympic Committee, for example.
Dai Greene, Mo Farah and Paula Radcliffe are just three British, Nike-sponsored stars who have objected to the British Olympic Association's Adidas deal in the past, but a compromise was reached and nobody missed a chance for glory or ended up looking silly.
But with athletes from all sports getting more conscious of their earning potential, and new entrants to the market eager to encourage that, the days of organisations such as USATF being able to rely on an appeal to patriotism to override personal interest could be coming to an end.