World Championships 2015: World records in numbers
Last updated on .From the section Athletics
World Athletics Championships
Venue:
Beijing National Stadium, China
Dates:
22-30 August
Coverage:
Live on BBC TV, Red Button, Radio 5 live, online, mobiles, tablets and app.
Click here
for full details.
There will be 47 gold medals won at this week's World Championships in Beijing, but will there be world records?
Humans have been trying to better each other for hundreds of years, with the first documented world-best performance in November 1855, when Briton Thomas Bury clocked 10.0 seconds for the 100 yards.
Fifty-nine years later athletics' governing body, the IAAF, would publish their first list of ratified records and the world has been comparing and competing ever since.
With the help of BBC Sport's statistician Mark Butler, we look at the history of track and field world records and assess what records could be set in the Chinese capital.
The greatest year for world records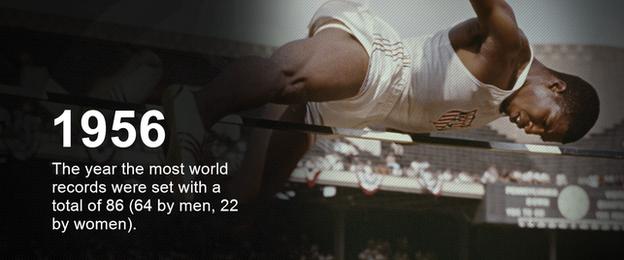 It doesn't get better than 1956 for those who love world records, but there has been at least one record every year since 1907 - and 11 across 10 events so far in 2015.
Oldest world record in a current event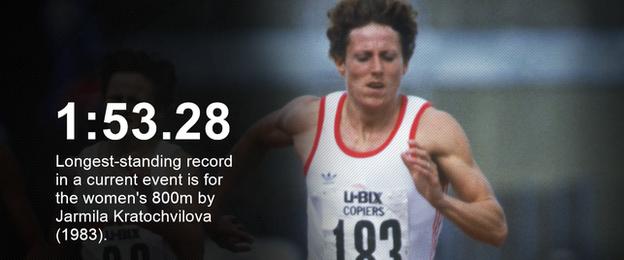 Czech Jarmila Kratochvilova takes the award for the oldest and longest-standing world record in a current event, but among defunct events the longest time a world record has remained unbeaten is 61 years and 129 days. That was for the 20-mile walk and was a time of two hours 47 minutes 52 seconds set by Briton Thomas Griffith on 30 December 1870. Take a bow, Mr Griffith.
The most world records by one athlete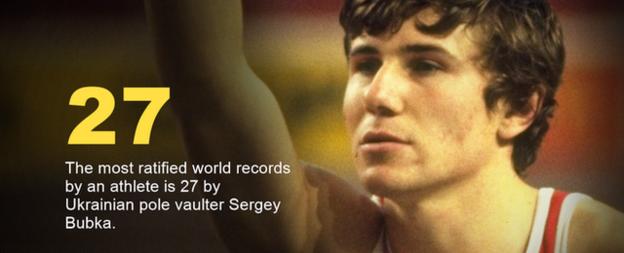 Sergey Bubka could break world records at will. As well as his 27 ratified pole vault records, he had a further eight world indoor bests, which were unratified but legitimate. The only man to come close to the Ukrainian is Finnish distance runner Paavo Nurmi, who set 22 official world records and seven world bests outdoors. That's a lot of record breaking.
Usain Bolt: The world's fastest man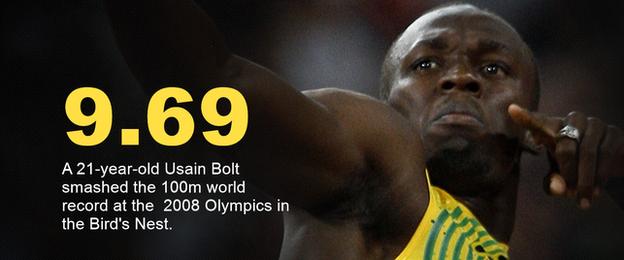 Remember a time without Usain Bolt? Neither do we, but the outgoing Jamaican became a household name with his out-of-this-world feats at the Beijing Olympics. He broke the 100m (9.69 secs) and 200m (19.30 secs) world record to claim Olympic golds - but bettered those feats at the World Championships a year later, setting a record time of 9.58 secs in the 100m and 19.19 secs in the 200m. Neither have been beaten.
Record-breaking Brits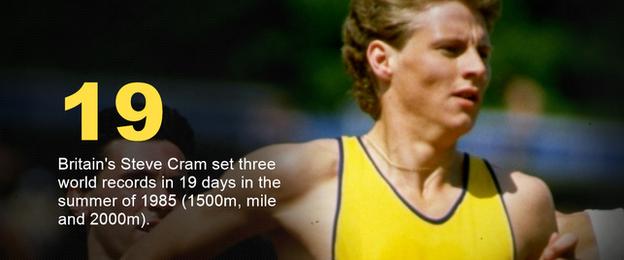 Thirty years or so ago Britain was a nation gripped by athletics and understandably so given the feats of Sebastian Coe, Steve Ovett and Steve Cram during the middle-distance golden age.
Coe set three world records in 41 days in 1979 (800m, 1500m and mile), followed by four in 79 days in 1981.
In 1980, Ovett entered the record books three times, establishing a new mile word record and twice breaking the 1500m world record, while five years later Steve Cram set three in 19 days. His time of 3:46.32 in the mile still sands as a UK record. Halcyon days.
Jesse Owens: Five records in 45 minutes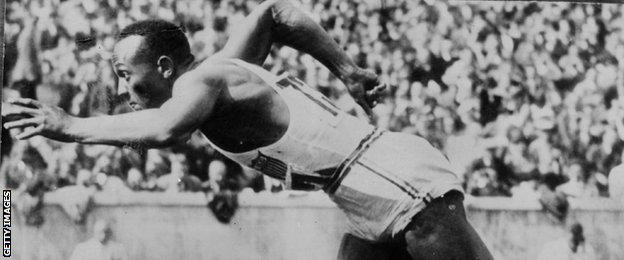 Jesse Owens is best remembered for winning four gold medals at the 1936 Olympics, but perhaps his greatest day as an athlete was on 25 May, 1935, when he broke five world records and equalled another in an astonishing 45 minutes in Michigan.
The then 21-year-old set world records in the long jump, 220-yard sprint, 200m straight, 220-yard low hurdles and 200m low hurdles straight, and tied the world record at 100 yards. His long jump mark of 8.13m stood until 1960.
Which records could be broken in Beijing?
There have been 11 world records across 10 events this year, indoors and outdoors, and more could tumble over the next week.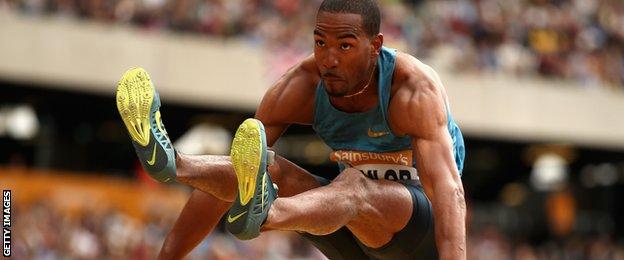 Cuba's Pedro Pablo Pichardo and America's Christian Taylor are pushing each other to their limits. Both are consistent, both will be vying for triple jump gold and both could go near Jonathan Edwards' 20-year-old mark.
And we should also keep an eye on the women's triple jump because this time last year Colombia's Caterine Ibarguen came within 19cm (equal fifth of all-time) of Inessa Kravets' world record of 15.50m and has been unbeatable in 2015.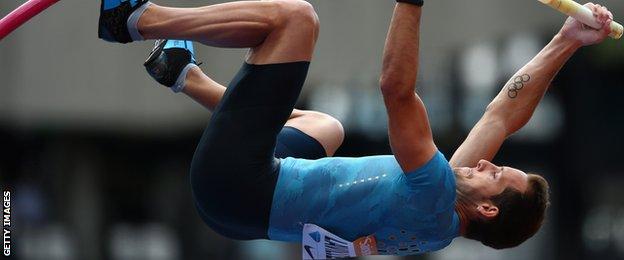 There's also the men's pole vault, of course, where France's Renaud Lavillenie is at the peak of his powers and a world record attempt is never far away.
A record time might be needed to win the men's 4x100m relay with Jamaica's team, featuring Usain Bolt, and America's team, featuring Justin Gatlin, set to meet in a titanic battle in the Beijing final. The time to beat is 36.84 seconds.
Best world record chance?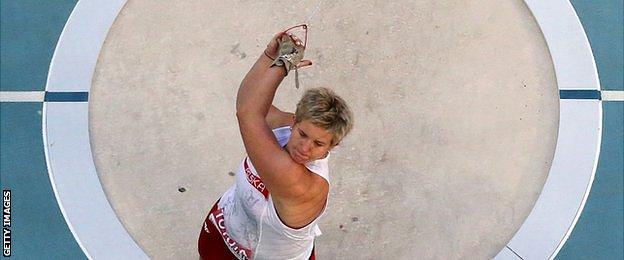 Poland's Anita Wlodarczyk is probably the most likely to break a record, having recently improved the world hammer record to 81.08m.
The 2009 world champion and London 2012 silver medallist will be looking to extend her record even further when she goes for gold on Thursday, 27 August.
Who else could make history?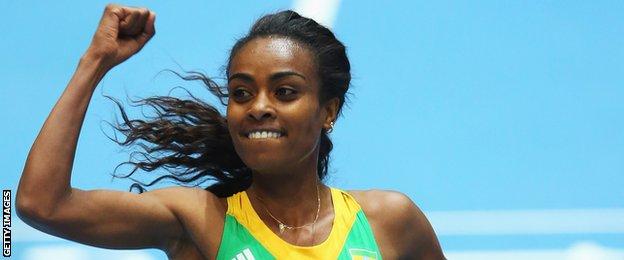 The women's 5,000m world record of 14:11.15 could be lowered because Ethiopian pair Almaz Ayana and Genzebe Dibaba are both in world-class form. Ayana will know that she will need to set a world-record pace to take the sting out of compatriot Dibaba, who has already broken the 1500m world record this year.
Home support in Beijing could inspire world record holder Liu Hong to lower the women's 20km time of 1:24.38 she set this year.
The world record has already fallen twice this year in the men's 20km, most recently to Yusuke Suzuki of Japan in a time of 1:16.36.