Doping in sport: What is it and how is it being tackled?
Last updated on .From the section Athletics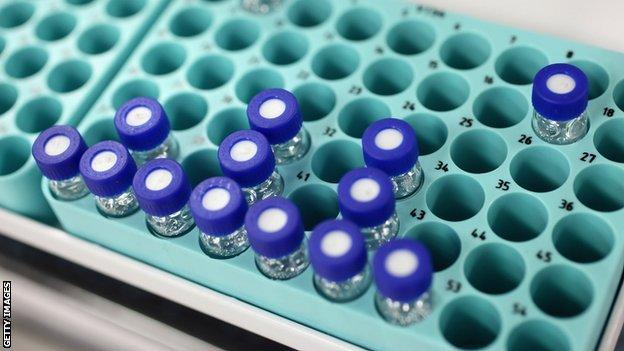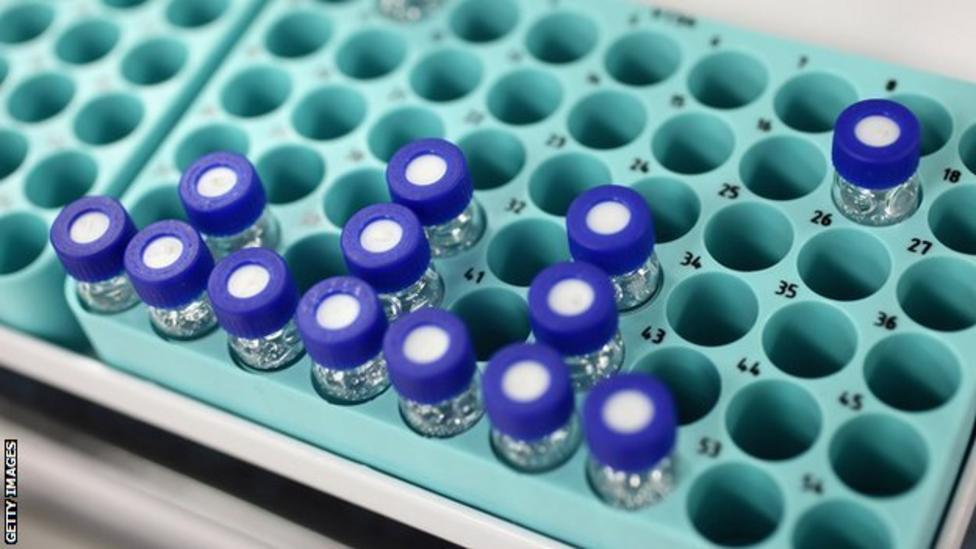 The issue of doping in sport has been widely discussed in recent weeks, but what exactly is it?
BBC Sport explains what it means, why it has become a hot topic, what the types of doping are and what is being done to tackle it.
What is doping?
Doping means athletes taking illegal substances to improve their performances.
There are five classes of banned drugs, the most common of which are stimulants and hormones. There are health risks involved in taking them and they are banned by sports' governing bodies.
According to the UK Anti-Doping Agency, substances and methods are banned when they meet at least two of the three following criteria: they enhance performance, pose a threat to athlete health, or violate the spirit of sport.
Why is it an issue now? A brief history of doping
The use of stimulants and strength-building substances in sport is held to date back as far as Ancient Greece, but it was during the 1920s that restrictions about drug use in sport were first thought necessary. In 1928 the International Association of Athletics Federations (IAAF) - athletics' world governing body - became the first international sports federation to ban doping.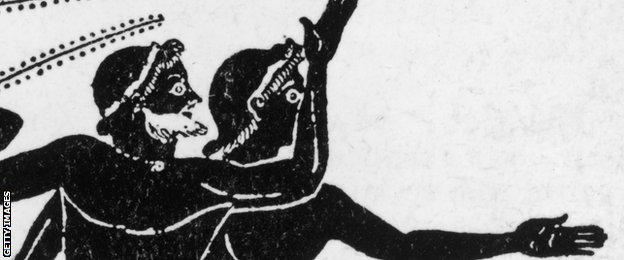 In 1966, the world governing bodies for cycling and football were the first to introduce doping tests in their respective world championships, with the first Olympic testing coming in 1968, at the Winter Games in Grenoble and Summer Games in Mexico. By the 1970s, most international federations had introduced drug-testing.
A major drug scandal at the 1998 Tour de France underlined the need for an independent international agency to set standards in anti-doping work. The World Anti-Doping Agency (Wada) was established the following year.
In January 2013, the retired American cyclist Lance Armstrong admitted to doping in an interview with Oprah Winfrey, and was stripped of his seven Tour de France wins and banned from sport for life.
In December last year, a German TV documentary alleged as many as 99% of Russian athletes were guilty of doping, although the Russian Athletics Federation described the allegations as "lies".
Since then, there have been numerous further allegations of doping in athletics.
What drugs are people using?
The most commonly used substances are androgenic agents such as anabolic steroids. These allow athletes to train harder, recover more quickly and build more muscle, but they can lead to kidney damage and increased aggression.
Other side-effects include baldness and low sperm count for men, and increased facial hair and deepened voices for women.
Anabolic steroids are usually taken either in tablet form or injected into muscles. Some are applied to the skin in creams or gels.
Then there are stimulants, which make athletes more alert and can overcome the effects of fatigue by increasing heart-rate and blood flow. But they are addictive and, in extreme cases, can lead to heart failure.
Diuretics and masking agents are used to remove fluid from the body, which can hide other drug use or, in sports such as boxing and horse racing, help competitors "make the weight".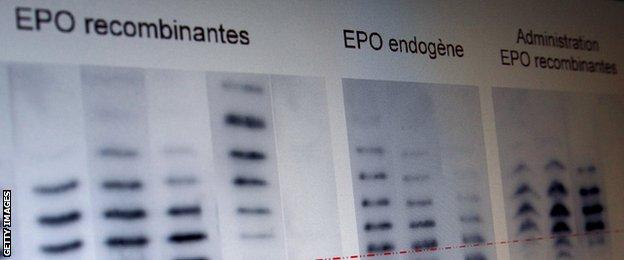 Narcotic analgesics and cannabinoids are used to mask the pain caused by injury or fatigue - but in practice can make injuries worse. They are also addictive. Products such as morphine and oxycodone are banned but the opiate-derived painkiller codeine is allowed.
Then there are peptide hormones. These are substances such as EPO (erythropoietin) - which increases bulk, strength and red blood cell count and gives athletes more energy - and HGH (human growth hormone), which builds muscle.
Less common is blood doping, where blood is removed from the body and injected back in later to boost oxygen levels. This practice, which can lead to kidney and heart failure, is banned.
Glucocorticoids mask serious injury because they are anti-inflammatories and affect the metabolism of carbohydrates, fat and proteins, and regulate glycogen and blood pressure levels.
Beta blockers, meanwhile, which may be prescribed for heart attack prevention and high blood pressure, are banned in sports such as archery and shooting because they keep the heart-rate low and reduce trembling in the hands.
A full list of banned substances in athletics can be found on the IAAF website.
How is doping detected?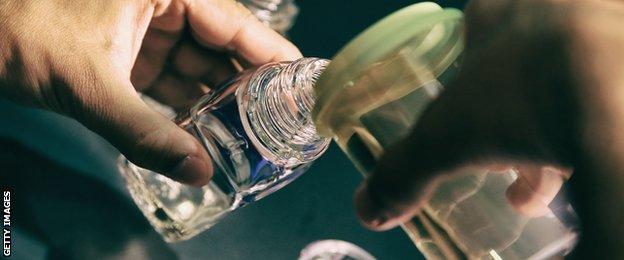 Most testing for doping products uses a long-established technique called mass spectrometry.
This involves firing a beam of electrons at urine samples to ionise them - turning the atoms into charged particles by adding or removing electrons.
Each substance the sample contains has a unique "fingerprint" and as the scientists already know the weight of many steroids, for example, they are able to rapidly detect doping.
But there are difficulties with the system.
Some by-products of doping substances are so small they may not produce a strong enough signal for detection.
Blood testing is capable of detecting EPO and synthetic oxygen carriers, but not blood transfusions.
One method introduced to aid the detection of such transfusions is the biological passport.
Brought in by Wada in 2009, the passport aims to reveal the effects of doping rather than detect the substance or method itself.
It is an electronic document about an athlete that contains certain markers from throughout their career. If these change dramatically, it alerts officials that the athlete might be doping.
Some scientists have questioned the passport's efficiency - especially when complicating factors such as training at altitude are factored in - but also its sensitivity to micro-dosing, a little-but-often approach to doping.
Famous doping cases
Prior to Armstrong's confession, Ben Johnson was probably the world's highest-profile drugs cheat. The Canadian sprinter tested positive for anabolic steroids at the 1988 Olympic Games in Seoul.
Johnson had won the 100m in a world record of 9.79 seconds but was stripped of his gold medal after the positive test and sent home in disgrace.
British sprinter Dwain Chambers was banned from competition for two years in 2004 after being found guilty of taking the anabolic steroid THG, while compatriot Linford Christie, a former sprint champion, was suspended from athletics in 1999 after failing a drugs test.
Other athletes to have been banned include US sprinters Justin Gatlin and Marion Jones.
What next in the fight against doping?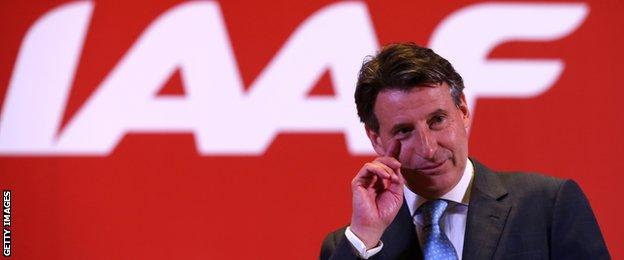 Former Olympic 1500m champion Lord Coe was named the new president of the IAAF on Wednesday and says he is determined to prove athletics' world governing body is committed to ridding the sport of drug cheats.
Coe, who has been a strong defender of the IAAF's record, has pledged to set up an independent anti-doping agency for the sport, admitting there is a perception that in-house drug-testing creates "conflicts" and "loopholes".
"There is a zero tolerance to the abuse of doping in my sport and I will maintain that to the very highest level of vigilance," he said.
Meanwhile, the UCI - cycling's world governing body - introduced 24-hour testing earlier this year.
Previously there was no testing between 11pm and 6am, providing a potential window of opportunity for micro-dosing products, such as EPO, without being caught.
Stricter punishments approved by Wada came into effect in January, doubling bans for athletes found guilty of doping from two years to four.
Sir Craig Reedie, Wada's president, maintains more can be done, urging governments to criminalise doping and suggesting a blanket ban on countries whose athletes regularly dope could be introduced.