World Championships: Why villains are good for sport
Last updated on .From the section Athletics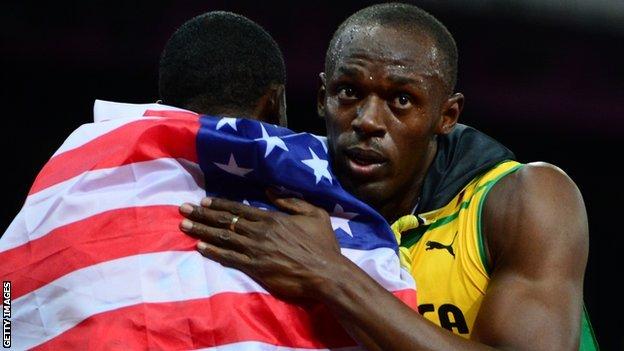 World Athletics Championships
Venue:
Beijing National Stadium, China
Dates:
22-30 August
Coverage:
Live on BBC TV, Red Button, Radio 5 live, online, mobiles, tablets and app. Click here for full details.
Sonny Liston got the game. Or at least he got the business. "A boxing match is like a cowboy movie - there's got to be the good guys and there's got to be the bad guys. And that's what people pay for - to see the bad guys get beat."
Liston was one of the bad guys. A convicted armed robber and batterer of police officers, the illiterate, monosyllabic heavyweight - who had 24 brothers and sisters - was also controlled by The Mob.
"Should a man with a record of violent crime be given a chance to become a champion of the world?" asked Red Smith, the venerable sportswriter, conveniently forgetting a cast of hundreds of wronguns from boxing's past.
When Liston got a shot at the heavyweight crown in 1962 he knocked out Floyd Patterson in two minutes and six seconds and ignited moral panic. Liston was, to use the title of a contemporaneous book, The Champ Nobody Wanted.
Ring any bells? For Sonny Liston, read Justin Gatlin. And for Floyd Patterson, read Usain Bolt.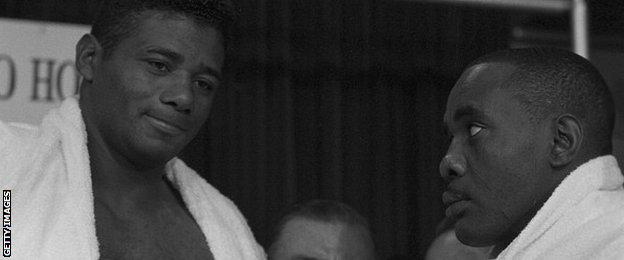 When American Gatlin, a twice-convicted drug cheat, and St Usain of Jamaica meet in the 100m at the World Championships this weekend, they will be battling for the soul of a sport. At least that's what the headline writers are saying. Because headline writers, like Liston, understand that when it is at its most compelling, all sport - not just boxing - is entertainment, even show business.
Butch Harmon, formerly Tiger Woods's coach and now a television analyst, has a habit. From time to time, Harmon will stare directly into the camera lens and proclaim: "He's such a wonderful player - and such a lovely young man."
Lovely young men are all very well but too many lovely young men can get a little bit boring. Which is why, when Woods was unmasked as a serial adulterer and furious sex addict, he became infinitely more interesting to many. Lovelier, no, but categorically not the golfing automaton many believed him to be.
This is why one of the best moments at the recent USPGA was when John Daly, former champion and perennial loose cannon, chucked his six-iron into Lake Michigan after dumping three balls in the drink. Bad behaviour from golfers makes them seem empathetic, because every hacker worth his salt has lost his dignity on the course, or at least witnessed a playing partner go ballistic.
Australian tennis player Nick Kyrgios is, evidently, not a lovely young man. He is, according to many, a problem who needs sorting. This is more a reflection of the sanctimonious society we still live in and how sanitised sport has become than of any recent breakdown in sporting decorum.
Reading the hysterical headlines recently generated by Kyrgios, you might think bad behaviour in tennis was a new phenomenon. True, the world number 37 was at his most obnoxious during this year's Wimbledon, or so it seemed. During a recent match against Stan Wawrinka, Australian Kyrgios, 20, made a comment about the French Open champion's girlfriend that might have spelt knuckles had he uttered it down the pub.
But as long ago as 1951, top American player Earl Cochell was banned for life for scaling an umpire's chair, commandeering his microphone and abusing a referee after an iffy line-call. And the splenetic outbursts of John McEnroe remain quite shocking to this day.
"John McEnroe's name will stand out as a defacement on the All England Club's 104-year championship roster," wrote Sidney B Wood Jr in the New York Times, following his countryman's Wimbledon triumph in 1981.
Actually, no. McEnroe is remembered as one of the most gifted and watchable champions in the history of tennis - who lost his rag every now and again.
McEnroe, like Kyrgios, was just a bit of an eejit. But McEnroe, like Kyrgios, was just a kid. Either way, as one tennis journalist put it to me: "You can't take your eyes off Kyrgios for a second when he's on the court. In contrast, David Ferrer is a great player and seems like a nice man, but is not very easy to watch." And that's what any sport wants most, people watching it.
Kyrgios is a role model in reverse - a public servant, if you will - somebody you can point to and tell your children: "Look at this bloke being booed - act the eejit like him, in any walk of life, and that will happen to you."
People like their entertainment served up in shades and they revel in darkness in particular, served up by nutjobs and cheats and everything in between. It's why newspaper moguls have always put stories about war, famine, pestilence and death - and villains - on their front pages rather than nice stories about lovely young men.
At which point, it is only right and proper to separate the nutjobs from the cheats. After all, there is a big difference between shouting your mouth off on a tennis court and biting an opponent on a football pitch, as Barcelona and Uruguay striker Luis Suarez is wont to do. And there is a big difference between biting an opponent on a football pitch and nobbling a fellow ice skater with a telescopic baton, as Tonya Harding had done to potential Olympic rival Nancy Kerrigan in 1994.
And there is a whole world of difference between standing accused of letting down one's sport, as with Kyrgios, and standing accused of threatening the very existence of one's sport, as with Gatlin.
But the very idea of Gatlin as some harbinger of death for the sport of athletics is darkly absurd and comical in itself, given that generations of drug cheats have been doing their best to kill the sport for half a century.
Patterson - who lasted only 17 seconds longer in his rematch against Liston in 1963 - later described the intense pressure he felt, being held up as the potential saviour of boxing. After losing his title, he felt so ashamed he fled Chicago wearing dark glasses and a stick-on beard. It was left to Cassius Clay, later to become Muhammad Ali, to deal with Liston. And even 'The Greatest' was hated initially, for both his bombast and his connection to the radical Nation of Islam.
For his part, Bolt has already voiced his misgivings about being held up as the potential saviour of athletics.
"People say I need to win for my sport, but I can't do it by myself," said the 100m world record-holder and double-Olympic and double-world champion over the distance. "That's the responsibility of all athletes."
Gatlin, meanwhile, is a reluctant bogeyman. "I am just a runner like he is a runner," said the former Olympic and world champion, who returned from his second ban in 2010 and has run the four fastest 100m times this year. "There is no good runner or bad runner."
But the public wants sport to be entertainment and to provide simple lessons in morality. It wants great stories, and the greatest possible story has an alternative narrative to that proposed by Gatlin and Bolt.
The public wants Gatlin to be the bad guy and Bolt to be the good guy. That's why hundreds of millions around the world will be watching Sunday's final in Beijing - to see the bad guy get beat.