World Championships 2015: Mo Farah subject of Andy Vernon barb
Last updated on .From the section Athletics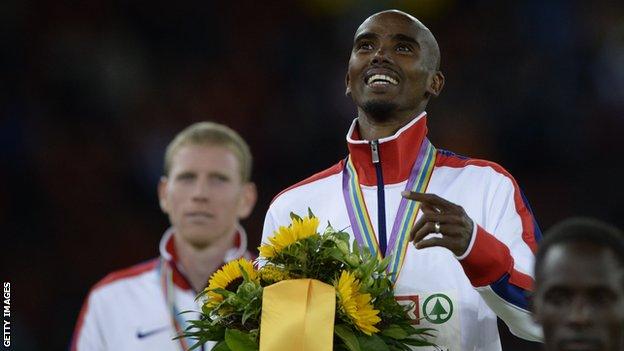 Andy Vernon has reopened a feud with Mo Farah after the Olympic champion won World Championship gold in the 10,000m.
European 10,000m silver medallist Vernon was not selected for the event, with Farah Great Britain's only runner.
Performance director Neil Black has said the pair's past disputes were not factors in the decision, but Vernon's latest barb appeared to challenge that.
"Great to hear you love to represent your country," he tweeted. "Thank you for stopping me do the same."
Farah and Vernon's most recent dispute came in July, when Vernon said Farah had sworn at him and refused to shake his hand after a Diamond League meeting in Lausanne.
That followed a disagreement in February, when Somalia-born Farah claimed 29-year-old Vernon had said he did not deserve his 2014 European 10,000m gold because he was not European.
The dispute escalated on social media, with Farah calling his rival an "embarrassment" before following up with the comment: "Taylor Swift can probably run faster than you."
When the pair raced in at last month's Diamond League meeting in Lausanne, Farah won the 5,000m in 13 minutes 11.77 seconds with Vernon finishing 15th in 13:47.97.