Usain Bolt v Justin Gatlin II: World Championship 200m final lowdown

By Tom Fordyce
Chief sports writer
Last updated on .From the section Athletics
World Athletics Championships
Venue:
Beijing National Stadium, China
Dates:
22-30 August
Coverage:
200m final live at
13:55 BST
BBC TV, Red Button, Radio 5 live, online, mobiles, tablets and app.
Click here for full details.
Four days on from that extraordinary 100m final it is time to go again.
Bolt v Gatlin II. A heavyweight contest, a world championship and a supposed morality tale all in one.
A mere hundredth of a second separated Usain Bolt and Justin Gatlin over 100m. As the hours tick down before Thursday's 200m showdown (13:55 BST), the rematch is shaping up to be every bit as hard to call.
In the yellow and green corner of Jamaica, 'Lightning' Bolt: nine world golds now, six Olympic titles, world record holder, chasing his fourth consecutive world 200m title, the most celebrated man in his sport.
In the red corner of the USA, Gatlin: winner of the sprint double at the Olympics of 2004 and Worlds in 2005, twice banned for doping, fastest man in the world over 200m this year by two-tenths of a second, hunting revenge after the shock end to his 28-race unbeaten run stretching back over two years.
Track record: Who has the edge in head to heads?
Bolt and Gatlin have raced each other many times over 100m. Only once, in all those races, had Gatlin come out on top - in the Diamond League meet in Rome in 2013.
Over 200m? They have met just once, 10 years ago at the Worlds in Helsinki, when a gangly, 18-year-old Bolt trailed home last in a final won by the bellicose Gatlin, his talent stymied by injury and his 6ft 5in frame trapped on the tight bend of lane one.
Since then much has happened to both men. The following summer Gatlin would both match the world 100m record and test positive for testosterone, triggering an eight-year ban that was later cut to four. Bolt has grown up to dominate global sprinting: world records over 100m, 200m and the 4x100m relay, Olympic golds in those events in this same Bird's Nest stadium.
Yet racing over 200m they are sprinting into the unknown. This is not just a rematch but a new frontier.
Form: Who is in the superior 200m shape?
On this season's form, Gatlin by a huge margin.
The American's 19.57 seconds in Eugene in late June was his fastest ever over the longer sprint. He has run four of the best six 200m times this year, including his 19.87 semi-final victory here in Beijing.
Bolt, by contrast, has raced the distance only once before coming to China, and that a struggling 20.13 in New York back in May.
He may hold the world record with his astonishing 19.19 at the Worlds in Berlin in 2009, but with a pelvic injury earlier this season restricting his training and affecting his form, the 19.95 he ran to win his semi-final here on Wednesday was the first time he has dipped under 20 this season.
"Gatlin was impressive again and showed why he is the fastest in the world this year," former 200m world record holder and Olympic champion Michael Johnson told BBC Sport.
"It was another high-quality race, with flawless execution of the bend and the transition so he could show his power.
"Usain looked relaxed and ran within himself. He got out of the blocks well but wasn't great around the bend.
"He looked a bit tired in the straight, because of the lack of training he has been able to put in. But he is still in very good shape, just not the type of form we are used to seeing from him.
"He was very honest afterwards, in that he doesn't really know where he is at. He is not really at his best compared to years past, so it is difficult to judge. It was far below par for Bolt."
Mind games: Who is in charge?
Sprint races, like few others, can be won or lost long before the gun goes.
Linford Christie used to mess with his rivals in the call-room before big finals by taking his top and walking around with his intimidating physique on display: 'this is what I've got, can you match it?'
Former world and Olympic champion Maurice Greene liked to simply stare his fellow competitors in the eye until they looked away.
Before the 100m here, goes one theory, Bolt took control of the narrative by casually sauntering over to Gatlin as they stood by their blocks and offering a fist-bump.
Many sprinters would have walked away, or pretended not to have seen it. When legendary US sprinter Carl Lewis tried a similar trick on Christie before the world 100m final in 1993, the Briton is supposed to have growled in his face like an angry bear.
Gatlin, nonplussed, instead accepted it and put his own hand out. In that moment, say those insiders, he ceded the mental battle to his rival.
Bolt is almost certain to try to dominate the ring-walk once again.
And while Gatlin seemed to be growing comfortable with his controversial reputation last week ("I don't see Usain Bolt saving anybody from house fires," he said before the 100m, "and I don't see myself plotting anything in a big cave with evil minions") he cracked when it mattered most.
Since then he has refused to speak to the British media, angry at his portrayal as the bad guy, upset that his mother was heckled in the stadium by a supporter in a union jack T-shirt, perhaps furious with himself that he ran his worst race of the year when even an average one would have won gold.
That desire for revenge, to prove the world wrong, may fire him up before the 200m final. Bolt, master showman that he is, will seek to douse the flames once again.
The rivalry: Genuine dislike or media hype?
For all that we can compare this to the vicious rivalry between Muhammad Ali and Joe Frazier in the early 1970s, or even the contrast between the garrulous Lewis and simmering Johnson in the 1980s, both men have been careful not to personalise these races.
Bolt has studiously avoided aiming any criticism at Gatlin while the American has focused his ire more on what he perceives to be unfair treatment from the media.
Neither is it fair to characterise this as good vs evil, great sell though that might be. This is only sport, and only a small part of it. Gatlin is a dope cheat, not a serial killer.
There is also a sense that Bolt has already won the one that matters. A victory for Gatlin in the 200m, while reason for dismay in those who do not believe in third chances for cheats, will not have the same seismic effect as gold in the 100m would have done.
Yet this is Bolt's preferred event, the one he grew up racing and the one his immense natural talents are most closely aligned to.
He has not lost a major championship race over the distance since 2007. A Gatlin win might reignite the enmity and rivalry going into the Rio Olympics next summer. But Bolt has no intention of letting that happen.
Lane draw: Who has come out better?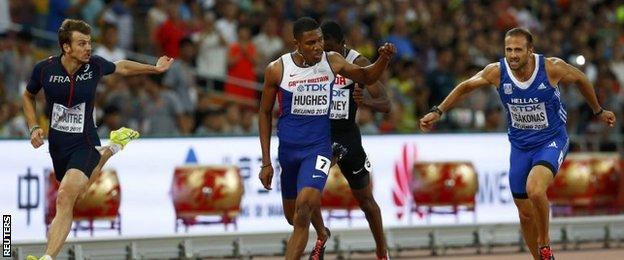 Before the 100m final, Gatlin's camp had indicated their man was keen to have Bolt in the lane next to him, so he could shock the Jamaican mentally in the first 10 metres before destroying him physically over the next 90.
Instead, after being drawn in lane seven, Bolt in five with Tyson Gay separating the two, it was Gatlin's form that fell apart, his over-straining and over-striding in the last 15m losing him the gold as much as Bolt won it.
This time the draw has once again been kind to the champion. Gatlin will start in lane four, with Bolt outside him in lane six, separated by Britain's Zharnel Hughes, winner of the other semi-final.
The more gradual curve in six both suits Bolt's physique and leaves him free to run his own race without a rival up alongside him. Gatlin, by contrast, will have the fastest man in history in his eyeline all the way.
It could act either as a magnet or a weight around his neck. And only if he is already level with Bolt can he in turn enter his rival's thoughts.
Lane draw for Thursday's 200m final
2. Femi Ogunode (Qat)
3. Ramil Guliyev (Tur)
4. Justin Gatlin (USA)
5. Zharnel Hughes (GB)
6. Usain Bolt (Jam)
7. Anaso Jobodwana (SA)
8. Nickel Ashemeade (Jam)
9. Alonso Edward (Pan)
Strategy: Where will the race be won?
"To generate the speed round the bend is always difficult, and that is the area Gatlin has to put Bolt under pressure," says former British sprinter and BBC pundit Darren Campbell.
"When Bolt is in the straight that's his part of the race, that's where he gets to relax and open up his stride. Gatlin will have to jump all over him around the bend.
"Will Gatlin be able to close him down and put Bolt under pressure in the first 60m?"
Johnson says: "I think Bolt has got a lot more to give on the bend and a little bit more on the straight.
"There is more to come, although I don't think it will be anything particularly special by his standards.
"Gatlin knows he is going to have somewhat of a challenge from Bolt. Who will win? Bolt."
The middle man: Can Briton Hughes get in medal mix?
Hughes has held a British passport since his birth in the British Dependent Territory of Anguilla, but only formally gained British citizenship in June.
The 20-year-old, a training partner of Bolt in Jamaica, comfortably won his national trials and has maintained in Beijing the strong impression he made by setting a new personal best of 20.05 at the London Anniversary Games.
"When he learns how to run a bend he will be very, very special," says Campbell. "He could go on to break the British record (the 19.87 by John Regis set in 1994).
"He could also have Bolt running away from him and Gatlin going past him. If that young man gets a medal here, then 'wow'."
Johnson says of Hughes's semi-final win in 20.14: "He has put together two quality races at these championships.
"He had a quick stumble off the blocks but didn't panic and got into his running and controlled the race. He was relaxed the entire way.
"I would expect improvement in the final. He ran very safely to make sure he got the best draw possible and that lane is perfect for him. He will have Bolt and Gatlin either side, and will just try to stay in their slipstream."
Live text commentary of all Thursday's action from the World Championships - including Christine Ohuruogu in the women's 400m final at 13:40 BST - begins at 11:00 on the BBC Sport website and app, concluding with the men's 200m final at 13:55.