World Championships 2015: Campbell critical of relay squad
Last updated on .From the section Athletics
World Athletics Championships
Venue:
Beijing National Stadium, China
Dates:
22-30 August
Coverage:
Live on BBC TV, Red Button, Radio 5 live, online, mobiles, tablets and app.
Click here
for full details.
Former Olympic champion Darren Campbell says Britain's men's 4x100m relay team should have their National Lottery funding cut after their latest failure.
The British quartet missed out on a medal at the World Championships in Beijing on Saturday.
"If they're not performing then maybe it's time to take away some of the funding," said Campbell. "They need to act like a team."
Amid rumours of squad tension, clear the air talks were held after the race.
"We just had straightforward conversations," said British Athletics performance director Neil Black.
"Everyone said what they wanted to say, really, really clear. It's an internal process, there's no questions about people being able to say what they need to say. We discuss it, we deal with it, with go forward."
A mistake on the final-leg changeover between James Ellington and CJ Ujah scuppered the team's hopes of a medal.
Division within the team was apparent as Ellington and Richard Kilty criticised the decision by sprint relay coach Stephen Maguire to bring in Ujah in place of Harry Aikines-Aryeetey, who had run in the morning heats.
However, Black added: "We came to win medals. We didn't believe that the team we put out in the first round was going to win a medal in the final.
"We were not going to be happy with fifth or sixth, so we chose a team and we chose a tactic that we actually believed was the most likely to win a medal."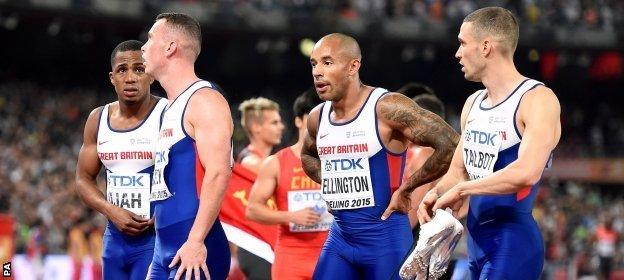 'We take risks to win medals'
UK Sport chief executive Liz Nicholl believes there needs to be a change in mindset among the relay squad.
She said: "I think UK Athletics has got to grip that team, grip that squad. We've got 12 months now to really see if they can get the very best out of each and every athlete and compete as a real team, and actually get the great performances they are very capable of, on paper, in Rio next year.
"At this point in time, this is about attitude, and not funding."
Michael Johnson's analysis
Speaking on BBC Sport, 400m world-record holder Michael Johnson said he was surprised at the change in make-up of the team from the heats to the final.
"It was all about not knowing what to do when things go wrong," he said.
"CJ Ujah did not take off early at all. There was a big gap between James Ellington and Ujah, so the 'go' mark was in the wrong place. Ellington sees the outgoing runner then he stops running instead of trying to get to the guy before going to the end of the zone.
"But you can't duplicate the competition in practice because it is completely different. The prelims are your opportunity to practice so run the same relay line-up in both.
"I have no good reason why you would make that change in personnel. Consistency is everything with relays and with this team the lack of consistency is the problem."
How those involved have reacted
Aikines-Aryeetey, who had run the second leg in the morning heats, was unhappy at his omission from the final and retweeted messages from followers questioning why he was not in the team.
The 27-year-old was part of the team which won gold at last year's European Championships.

After the race, both Kilty and Ellington used social media to air their views on what had happened at the Bird's Nest.



"For me, the relay is my life because I don't get money coming from anywhere else," said Ellington.
"The relay money I get supports me to train full-time. The horrible thing for us is that if we go out there and don't perform, we get cut from funding. The people doing the jobs at the top don't get cut from funding. They keep their jobs."
Kilty said: "There needs to be a lot more structure and communication between the coaches and the athletes. It's all over the place."
Britain's miserable relay history
Saturday's failure was the latest in a long list of sprint relay disappointments for the GB men's team since they came to the 2008 Beijing Olympic Games as defending champions following the success for Campbell, Jason Gardener, Marlon Devonish and Mark Lewis-Francis in Athens.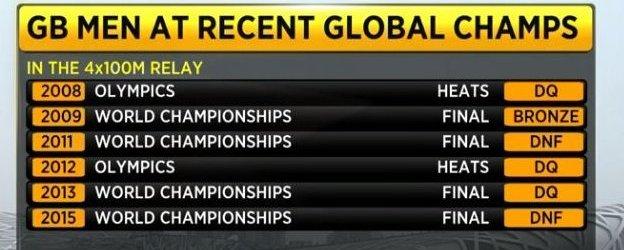 Seven years ago, GB looked certain to make the final, only to be disqualified when Craig Pickering set off too early for the final change with Devonish and the baton was exchanged outside the changeover zone.
There have been similar failures in the 2010 European Championships, World Championships and at London 2012 the host nation were disqualified from their heat.
On that occasion, anchor leg runner Adam Gemili set off too early as he was about to take the baton from Danny Talbot and the changeover took place outside the designated area.