World Championships 2015: IAAF defends scale of drug testing
Last updated on .From the section Athletics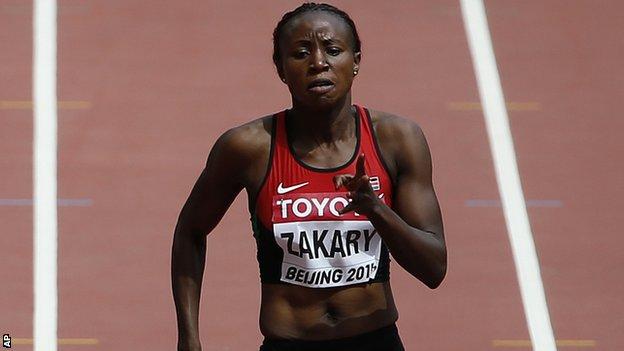 More than 1,400 drug tests were carried out at the World Athletics Championships in Beijing, the sport's governing body says.
Just two positive tests were recorded - although the IAAF says hundreds of samples still need to be analysed.
The run-up to the event saw allegations of widespread doping in the sport.
The IAAF was also criticised for the scale of its testing plans in Beijing after admitting it would test only a third of athletes - 600 to 700.
But the governing body has defended its programme, saying: "The doping control programme implemented by the IAAF in Beijing was the largest implemented in a single sporting event by any sport since the IAAF World Championships in Moscow two years ago."
It also stressed it had focused on "targeted" testing of athletes. "Thousands of samples were collected out of competition in the lead-up to the event, and the IAAF then implemented an intelligence-led programme in Beijing," a spokesman said.
Kenyan duo Koki Manunga and Joyce Zakary, who were suspended during the championships, were the two athletes to fail tests.
"Should any of the remaining samples be reported as positive, the IAAF will make a public announcement when the rules allow," the spokesman added.
The IAAF said a total of 1,405 doping controls were carried out in Beijing, comprising:
• 662 blood tests relating to the athlete's biological passport
• 161 blood tests to detect human growth hormone and EPO
• 54 out-of-competition urine tests
• 528 urine tests at the stadium - 239 of which will be analysed for EPO and related substances
The samples will be frozen and stored for future reanalysis as science and technology progresses.