Lord Coe urged to explore more opportunities for Scotland
Last updated on .From the section Athletics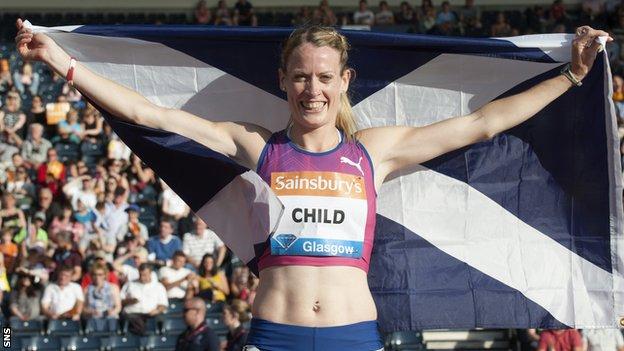 Scottish athletics chiefs have urged Lord Coe to explore more international opportunities for Scotland in his role as head of the IAAF.
The governing body for the sport in Scotland also want to see greater weight given to the Commonwealth Games.
Nigel Holl, chief executive of scottishathletics, has written an open letter to Lord Coe.
"We hunger for more opportunities for athletes to pull on a Scotland vest," said Holl in his open letter.
"Such opportunities have been reduced in recent years."
Holl's comments to Coe come in a week where Team Scotland have enjoyed success at the Commonwealth Youth Games in Samoa - with all six track and field athletes selected collecting medals.
Three silver and four bronze were won by sprinters Alisha Rees and Cameron Tindle, 800m runners Ben Greenwood and Carys McAulay, long jumper Rachel Alexander and thrower George Evans.
And swimmer Erin Robertson, 16, won Scotland's first gold medal in the 50m breaststroke.
"We would urge for dialogue to begin about ways in which meaningful but appropriate competition could be identified that supports the wider structure, but recognises - in these islands - the unique 'federal' opportunity that we could present," said Holl.
"It is not so long ago that Scotland used to compete at the Euro Cross Country Champs and many people from that era reflect positively and what impact that had on cross country running at GB level."
The next Commonwealth Games will be in the Gold Coast in 2018, with the selection process set to begin soon.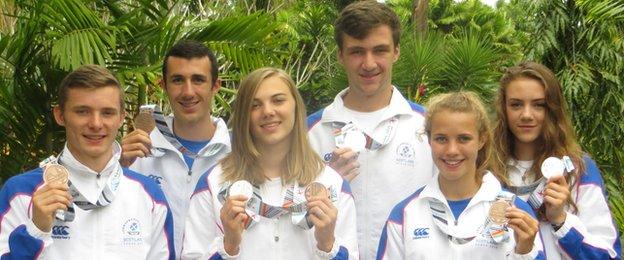 However, with the event that year in April and the European Championships later that year, there are concerns top Scots like Lynsey Sharp, Eilidh Child and Laura Muir may be asked to have a double focus and peak at different times of the season.
Holl added in his letter to Coe: "The Commonwealth Games has a special place in the heart of Scotland - a place that was strengthened in Glasgow in 2014.
"I know you experienced that and we urge you to recognise the role that the Commonwealth Games has for athletics - and ensure that the dialogue, partnership and engagement with the Commonwealth Games Federation is strong.
"We would like those conversations to help enable the Commonwealth Games to have a greater priority within the calendar and that member nations see them as central part of their athlete development programmes."
And Holl wants to see a review of the four-year cycle leading into the Olympic and Paralympic games.
He said: "We would respectfully suggest and propose: Year 1: Commonwealth (and equivalent worldwide)/ Year 2: European / Year 3: World Championships / Year 4: Olympic and Paralympic."