Justin Gatlin confident of beating Usain Bolt in 2016
Last updated on .From the section Athletics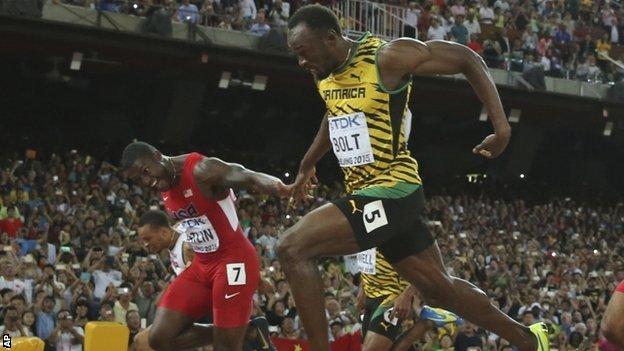 Justin Gatlin believes he can still beat sprint rival Usain Bolt, despite two defeats by the Jamaican at the recent World Championships in Beijing.
The American, 33, has run personal bests for the 100m and 200m this season - and says he can still go faster.
"Each year in the last three years I just focus on being a better athlete and trying to improve and that has shown in my performances," he said.
Gatlin returns to action in Friday's Diamond League meeting in Brussels.
He will be crowned overall 100m champion if he finishes in the top three in Brussels, with 29-year-old Bolt - who was out of contention for the Diamond League crown - not competing. Gatlin also runs over 200m in Belgium.
Gatlin, who has twice served doping suspensions, finished behind the 11-time world and six-time Olympic champion in both sprint finals in Beijing last month.
But he added: "The margin between us is getting smaller and smaller.
"In 2014 I was in consistent 9.8 shape and this year I've been pretty much consistently in 9.7 shape. Next season I hope to do even better. It's just about growth and being there on the day to perform.
"It's not for me to say what you can and can't do at a particular age. I don't think I'm going to hit a limit like 'Uh! I'm 34 I can't learn anything anymore - I can't focus on being a better athlete'.
"I think a lot of athletes once they get into their mid-thirties they focus more on life and on having kids and a family - kind of more exiting out the game."