Paula Radcliffe: Wada responds to blood-doping claims
Last updated on .From the section Athletics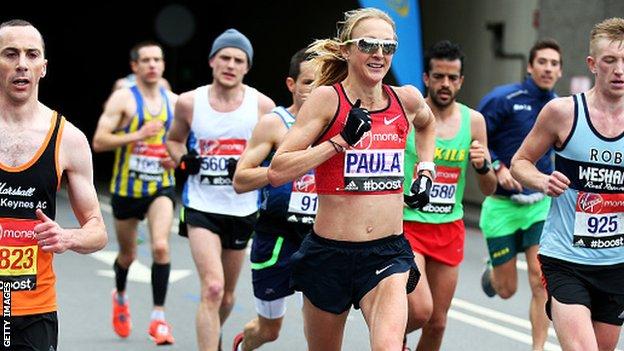 The World Anti-Doping Agency says it "must remain impartial" amid calls to help clear Paula Radcliffe's name.
The marathon world record holder said questions raised at a select committee this week "effectively implicated" her in blood-doping allegations.
The Briton's husband and coach Gary Lough has urged Wada to "protect" her and "state there is no case to answer".
Wada said it is "committed to protecting the confidentiality of athletes".
However, it added that no information from before 2009 - prior to biological passports - "could ever be considered doping, legally or otherwise".
At a parliamentary select committee on Tuesday, Jesse Norman MP suggested London Marathon winners and medallists and "potentially British athletes" were under suspicion following the Sunday Times' allegations of doping in the sport.
Radcliffe, 41, is a three-time London Marathon winner and set the world record over the distance at the 2003 race.
"It is very unfortunate that any athlete should feel implicated and that they have to defend their reputation as a result," Wada's statement added.
"Tarnishing an athlete's name based on values from pre-2009 would be wholly irresponsible.
"Even athletes' data from post-2009, when the ABP (athletes' biological passport) had been introduced, is not necessarily indicative of doping."