Eilidh Child: Wedding bells and Olympic aspirations

By Rhona McLeod
BBC Scotland
Last updated on .From the section Athletics
As Eilidh Child prepares for her walk down the aisle, the Scottish hurdler is working on another stride pattern with a view to Olympic success.
A frustrating year on the track ends on a joyful note as the 28-year-old from Perth looks forward to her wedding and a future as Mrs Doyle.
And she has high hopes of further happiness in Rio next year.
"There's always that extra-special feeling knowing you are going into Olympic year," Child told BBC Scotland.
"It makes all the hard work worth it."
Child's 400m hurdles career has been on the rise since reaching the semi-finals at the London Olympics in 2012, with a second Commonwealth Games silver medal coming her way in Glasgow last year, along with gold at the European Championships.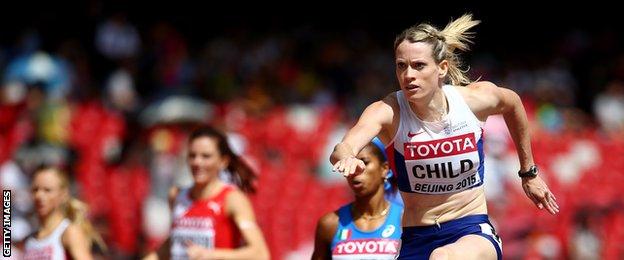 However, 2015 saw that progress stall, with a sixth-place finish at the World Championships in Beijing.
"Last year everything went as perfectly as it could have in terms of stride pattern but this year I got a little bit faster than last year, and that affected my stride pattern," Child explains.
"It's trying to change things and knowing when to change things, so I feel I should have taken a few more risks with my stride pattern because that would have paid off better.
"I was disappointed after the World Championships as I should have been up there with the girls who were winning medals.
"But I can take that motivation into winter training and use it to my advantage next year."
Eilidh Child on recent doping headlines
"It's been sad to see the sport I love tarnished with stories of doping. I train really hard and work really hard to be the best, and hope that the girls I run with do the same thing. Then we can all step off the track knowing that we have given our very best performance cleanly."
Following her October marriage to Brian Doyle at Glenskirlie Castle and a honeymoon in the Maldives, Child will begin her Olympic preparation in earnest with coach Malcolm Arnold.
"He's got a plan of how we are going to work on the hurdles and nail the stride pattern," she adds.
"It's so reassuring that he has faith in me. If he thinks I can, then I should be able to do it.
"We've discussed the skeleton of the season. I'm not going to do an indoor season, so I can concentrate on the outdoor season.
"The main think about the Olympics is first and foremost getting the qualification out of the way."
Child also believes married life will help, with Doyle giving up his job in Falkirk to move - along with his son Owen and dog Ben - to Bath, where she trains.
"Each year it has become harder and harder to be apart," said the husband-to-be. "I'm sure she would do the same for me if I was good at sport!"