Goldie Sayers: Javelin star to work with 'master' coach Dan Pfaff
Last updated on .From the section Athletics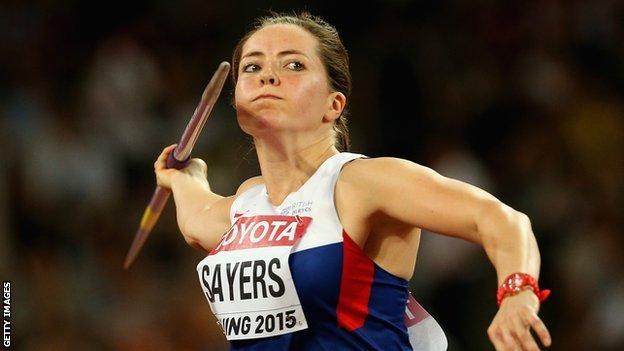 British javelin record holder Goldie Sayers hopes working with "master" coach Dan Pfaff will help her reach Rio 2016 fully fit and ready to compete.
Sayers, 33, whose 2012 Olympic hopes were dashed by an elbow injury, came 26th at this year's World Championships after knee surgery at the end of 2014.
"I see him as the best person in the world to keep me healthy," she said.
"He is a master of body alignment and making sure everything is moving in the right direction."
American Pfaff is credited with helping British long jumper Greg Rutherford become Olympic champion, and worked with Sayers earlier in her career.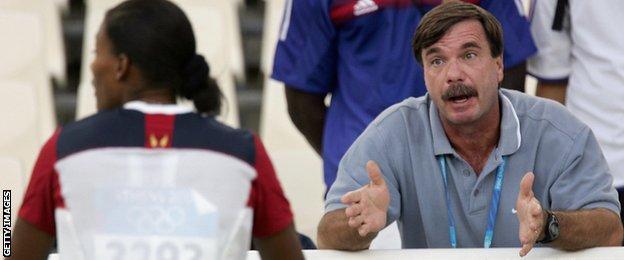 "Dan's very good at looking at mechanics. If the body isn't set up from an alignment perspective and there's tightness higher up the chain, he always looks at every little detail from when you start warming up to when you start the session.
"It takes a lot of the responsibility off me and means I can just get on and train and have to not worry about how everything's set up," she told BBC Sport.
The Newmarket-born thrower admitted she was "surprised" to qualify for the World Championships in Beijing, and it was too early to set a target for for the Rio 2016 Olympics, which would be her fourth Games.
"The trouble with an event like mine is you can't really aim for places, you can only aim for distances," she said.
"I know what it will take to medal in Rio and it will definitely be beyond 65m so I've got to get myself in the best possible shape in order to achieve that."
Sayers finished fourth at the 2008 Olympics in Beijing and has yet to decide if she will continue her sporting career beyond next year.
"I'm just looking at Rio and then I'll make a decision as to whether I carry on or finish on four Olympics. I certainly won't be doing another Olympics, put it that way," she added.