Lynsey Sharp admits she has not yet recovered from Beijing loss

By Jane Lewis
BBC Scotland
Last updated on .From the section Athletics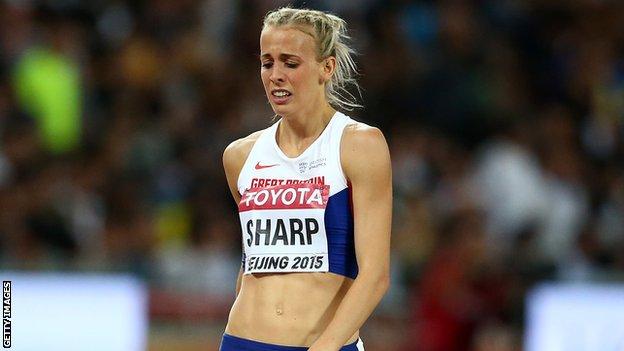 Lynsey Sharp does not wish to relive her World Championship 800m semi-final loss in Beijing.
The 25-year-old finished last after being well placed at the halfway stage and missed out on a chance to go for a medal.
"I still haven't watched it back but I know what I did wrong - I can remember it so clearly in my head," Sharp told BBC Scotland.
"I don't think I'm ready to watch the semi-final just yet."
Sharp had run a season's best one minute 58:98 seconds in her heat, but admits she got her tactics in the semi-final wrong, finishing in 1:59.33.
"I went in to the semi-finals knowing I had to run a PB (personal best) having watched the first two semi finals," she said. "And I think I concentrated too much on Eunice Sum knowing she was one of the ones to beat.
"I ran her race rather than my own. I should have had faith in myself.
"If I had just concentrated on my own race and done what I usually do I would have been fine, but I didn't just sit on her shoulder, I pushed her on and she actually just qualified so it affected me and it almost affected her, which shows it was a big mistake on my part."
Sharp broke the Scottish women's 800m record two weeks later when she beat world champion Marina Arzamasova in the IAAF World Challenge in Berlin.
The Scot clocked one minute 57.71 seconds, the third fastest by a Briton, behind Kelly Holmes and Kirsty Wade.
"I'd done amazing stuff in training so all I had to do really was just relax and it was really my last chance," said Dumfries-born Sharp.
"It was terrible conditions in Berlin but I just stood on the start line and said 'well, I might as well do what I can to show that I was in good shape in Beijing', and it was just a tactical error rather than not being in shape.
"It was amazing to hear it was the fastest time for a Brit since Kelly in Athens. We've had some amazing 800m runners over the years and it was nice to be up there with them now as well.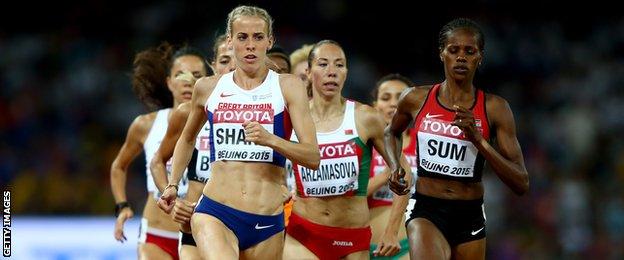 "What happened in Berlin didn't make up for what happened in Beijing. I wanted to salvage something from the season and I definitely did that.
"To break my own Scottish record was great but obviously it's about winning medals and that's what I wanted to do. To finish the year with no medals having won two last year was hard."
Sharp is now looking ahead to the Rio Olympics in 2016, and wants to build on her silver medal at the 2014 Commonwealth Games in Glasgow.
She said: "I don't just want to make the team, I want to be in the position to fight for a medal. If I do what I did last year but just get it right tactically on the day we'll be there or thereabouts.
"I wouldn't say there was one major thing that needs improving, I'd say it's just improving everything a little bit building in to Rio.
"I really do think I can win a medal next year - both on the times it's been won on and I really feel like I'm up there with those girls.
"But, it's not done off times or rankings, it's about who can do it on the day, so hopefully it comes together this year."