Dublin Marathon victories for Gemechu and Lehonkova
Last updated on .From the section Athletics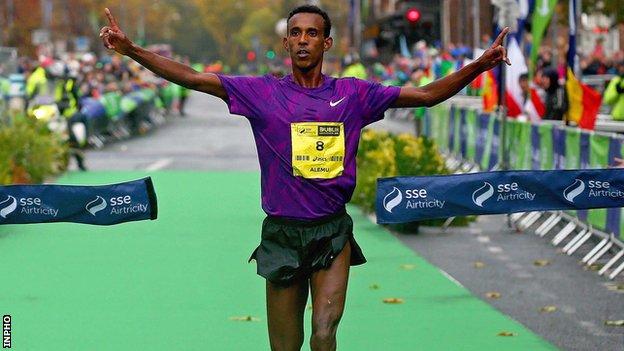 Ethiopia's Alemu Gemechu won the men's race at the Dublin Marathon while Nataliya Lehonkova of Ukraine triumphed in the women's event.
Gemechu clocked 2:14.01 to come in six seconds clear of Francis Ngare (Kenya) with Asefa Bekele (Ethiopia) third.
Lehonkova dominated to win in 2:32.08, over a minute clear of Grace Momanyi (Kenya) while Tesfanesh Denbi (Ethiopia) trailed home in third.
Sean Hehir (2:17.48) and Pauline Curley (2:49.29) were the top Irish runners.
Hehir, who had a quick turnaround from the Berlin Marathon on 27 September, led the field around the first turn but, from there on, the African athletes took control.
"It was a balancing act between absorbing the effort from Berlin, recovering and trying to win the national title," said Hehir.
"I'm very happy with the sub 2:20. That's special and to be national marathon champion that's very special too."
Mourne Runners athlete Laura Graham (2:56.21) was the third Irish woman to finish.