Robert Heffernan set for London 2012 bronze amid Russian scandal
Last updated on .From the section Athletics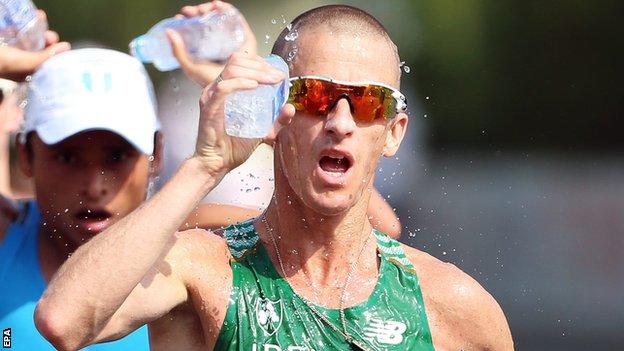 Irish walker Robert Heffernan's chances of being upgraded to a bronze medal following his fourth spot in the London Olympics 50K appear to have improved.
Kirdyapkin is currently serving a ban which retrospectively suspended him from July 2009 to June 2012 and from October 2012 onwards.
However, the Russian's doping ban didn't extend into summer of 2012.
The IAAF are currently appealing against the Russian doping governing body's decision to rule that Kirdyapkin was a clean athlete at London 2012.
This appeal is due to be heard by the Court of Arbitration for Sport in Lausanne.
Earlier this year, Kirdyapkin was among a batch of race walkers suspended by the Russian Anti-Doping Agency (Rusada) because of irregularities in their biological passports.
According to World Anti-Doping Agency (WADA) special commission which reported on allegations of widespread corruption and collusion by Russian officials, Kirdyapkin was originally included on the list of suspended athletes in November 2011.
The report, released on Monday, said that there was "an excessive time delay" in the notification of Kirdyapkin's abnormal blood values, designed to ensure he still competed in London.
Australian Jared Tallent, who finished second in the 50K event in London, insists he now should be handed the gold medal.
"The allegations are absolutely shocking to find out the man who beat me in London, Sergey Kirdyapkin, probably should have been banned as early as 2011 but the IAAF held off from banning him until after the Olympic Games in London," he told reporters in Canberra on Tuesday.
"So, effectively letting him race even though they knew he was a dope cheat and then he went on and beat me for the gold medal."
Irishman Heffernan won the 50K title at the 2013 World Championships in Moscow and was also belated awarded a bronze from the 2010 European Championships after the banning of another Russian gold medallist Stanislav Emelyanov.
Former Irish race walker Olive Loughnane also could be set for a retrospective gold medal from the 2009 World Championships in Berlin.
Last January it was announced that Olga Kaniskina, who pipped Loughnane for the world 20 kilometre gold in Berlin in 2009, was among Russian walkers to have been handed backdated doping bans.