Bangkok half-marathon racers run extra four miles after error
Last updated on .From the section Athletics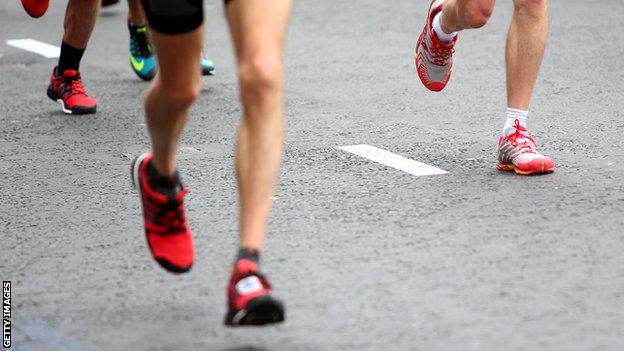 Runners in Thailand could be forgiven for feeling exhausted after completing a half-marathon on Saturday - after having to run nearly four miles further than they should have.
Athletes in the Bangkok Half-Marathon bombarded race organisers with complaints after running almost 17 miles rather than the usual 13.
David Paul Nicholson said on Facebook he was "disgusted" by the error.
"According to my GPS watch it was 27.8kms!!! (17.3 miles)," he wrote.
"I am utterly disgusted that a marathon that prides itself and markets itself as one of the best in South East Asia, cannot get the distance right.
"Needless to say I will vote with my feet and never again participate in this joke of an event."
On Monday, Songrakm Kraison, vice-president of the Jogging Association of Thailand, said organisers told runners to turn in the wrong place.
"The association apologises for the mistake," he told the Associated Press. "It will not happen again in the future."
More than three kilometres (about two miles) were added to each of the two laps.
"We have rebuked the association, but we could not do anything else," added Kraison.
Facebook user Sam Lord wrote: "Still waiting for any kind of apology or explanation. Extremely disappointed. Instead of the satisfaction of crossing a finish line I ended the race in the back of a taxi after 23km when my legs gave out. I want my money back!"