Rio Olympics would overturn turmoil of this year - Eilish McColgan

By Jane Lewis
BBC Scotland
Last updated on .From the section Athletics
Moving up a distance and getting a full-time job - just two of the measures Eilish McColgan is considering as she bids to turn around her recent fortunes and qualify for next year's Olympics in Brazil.
The 24-year-old Scottish steeplechaser admits at being frustrated and disappointed after having had her funding cut by UK Athletics recently after a 10 month injury lay off.
While calling on the governing body to provide more support for athletes recovering from injury, McColgan is not waiting around for outside help and exploring all angles as she aims to get on the road to Rio.
And, while the 3,000m steeplechase remains her favoured event, McColgan is willing to compete in the 5,000m and 10,000m if it improves her chances.
"I would like to do the steeplechase, but I don't think it's going to be feasible this year," she explained. "With the impact, my ankle's still quite sore running at the moment. There's no way I could jump.
"I want to target 5k, 10k, but I'm always going to have the steeplechase at the back of my mind.
"I have many years to compete. I've got a lot more years left in the steeplechase."
Road to Rio
McColgan last competed in January and, after having screws inserted in her ankle during surgery, says her main priority in the short term is to "get training".
She plans to spend a month in Kenya early next year to undergo altitude training.
After first competing for Great Britain at the European Team Championships in 2011, McColgan won silver at the UK Outdoor Championships later that year.
She achieved the qualifying standard to compete in the steeplechase event at the London 2012 Olympics but did not reach the final.
McColgan feels a place in Brazil would "overturn all the turmoil of this year".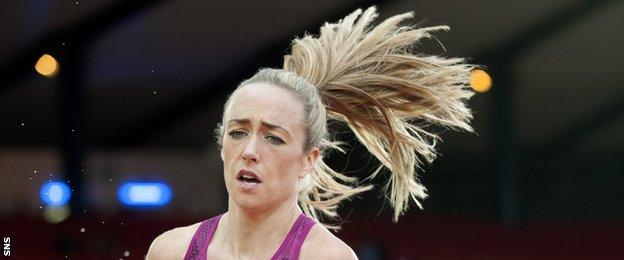 "I want to make the team because I almost want to prove to myself that it's worth going through all my injury, really, rather than the funding side of things.
"It's more of a personal thing. Obviously, it would be nice to prove people wrong that don't believe in you.
"I want to be there for my own benefit, rather than theirs."
Back in training
In the meantime, McColgan is focussed on building up her fitness and, although she describes starting again as "a scary prospect", she is also excited.
"If I have a realistic chance of making the team, it really has to begin now," she said.
"I'm at a crossroads where I have to make the decision and make the right one because I can't afford to make any more mistakes, really.
"I did think about going back to university or what job prospect I wanted to go into. With the surgery, it's given me a lot more of a positive feeling towards it.
"I'll always run, even if I didn't do it competitively or at an elite level. It's always been my hobby and that'll never change.
"I do come back quickly. Once a runner, you're always a runner - your fitness will come back. At some point, this will click and I'm sure it will, but it's going to take a lot of hard work and a long, long slog to get to that point.
"Obviously, a lot of fitness has been lost over those 10 months, but I still love the sport. This is what I want to do and I'm excited by it, actually.
"It's quite an exciting prospect to be almost starting at the very bottom and having to work your way back up again."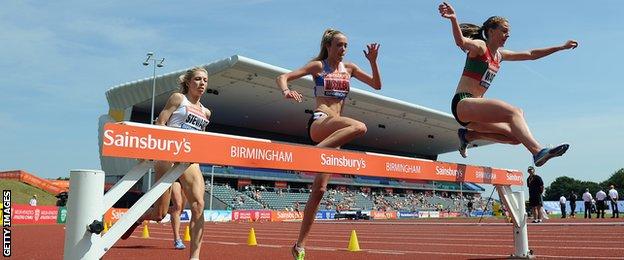 Funding frustration
Speaking specifically about losing her own funding, McColgan's main frustration was that it happened "so close to the Games".
"Obviously, it's based on performance and, due to injury, I've no performance [since January]," she added. "It's difficult to argue against.
"I would have liked to have been given the benefit of the doubt. I feel like I've showed that I'm more than capable of making a team.
"There are several athletes on the list that are in a similar situation to myself but have been given that benefit, that have been given that little bit of a lifeline to make the team.
"I would love to have been given that opportunity to keep my funding and really give me that support when I most need it.
"I'm more determined than ever to make sure that I am on the start line, with or without funding. It doesn't change what I do from here on in.
"It makes things a little bit more difficult, but there are other ways to get there.
"If it means I have to get a full-time job on top of my running in order to be there, that's just the way it goes."