Libby Clegg splits with guide runner Mikail Huggins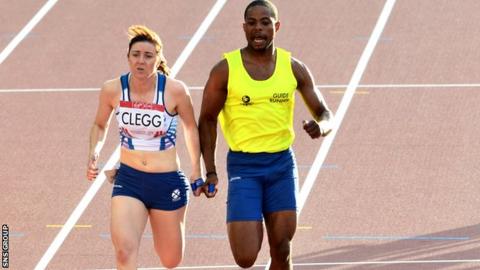 Commonwealth Games gold medallist Libby Clegg has announced the end of her sprint partnership with Mikail Huggins.
The 25-year-old visually-impaired athlete lost her funding from UK Athletics this month after pulling out of the recent IPC World Championships.
Clegg and Huggins also won gold at World and European Championships, along with a Paralympic silver in 2012.
"I feel that now is the time for a fresh start," said Clegg, who hopes to run in the Rio Paralympics next year.
"Whilst we have enjoyed success on the track, we have not improved our PB [personal best] since London 2012 and for me to medal at Rio, I feel this is essential.
"It has been an extremely hard decision to make as Mikail has not only been a guide runner for me, he has also been a friend and we have shared some amazing experiences together."