IAAF Antrim Cross Country: McCormack in Antrim field
Last updated on .From the section Athletics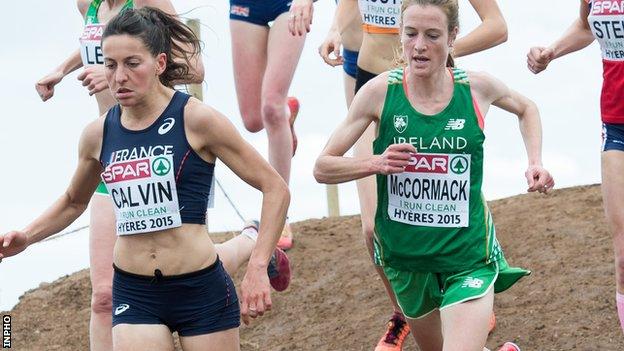 Irish double European champion Fionnuala McCormack will compete in the IAAF Antrim International Cross Country meeting next month.
The Wicklow women, who is also a two-time winner on the Greenmount course, won the European Cross Country title in 2011 and 2012.
McCormick was fourth in France earlier this month, helping the Irish team to a second straight European bronze medal.
The former steeplechaser has qualified for the marathon at the Rio Olympics.
McCormick, 31, is second only to Sonia O'Sullivan in the list of top female Irish cross country runners.
She clocked a marathon time of 2:33.15 in October, ensuring her place in Rio next summer.
McCormack will be challenged in Antrim by Birtukan Fente Alemu of Ethiopia, who is the current title holder.
The African enjoyed a comfortable victory in March, winning by 16 seconds from Steph Twell, who was the first female winner at Greenmount back in 2009.
Newly crowned European U23 champion Louise Carton of Belgium will also be competing while the meeting will also include current men's champion Thomas Ayeko of Uganda.