Scottish National XC: Potter and Butchart win second titles
Last updated on .From the section Athletics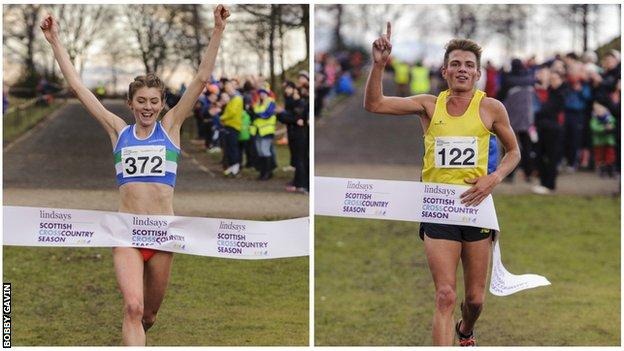 Olympic hopefuls Beth Potter and Andrew Butchart won their second Scottish National cross country titles in Falkirk on Saturday.
Potter won the 8km course with a time of 29 minutes, 45 seconds following up her 2013 success.
And fellow Scot Butchart, who turned down the opportunity to run for the British 3,000m indoors in Sheffield, defended his 12km title in 40:02.
"I'm glad I came here and it is nice to win it for the second time," he said.
"I wouldn't say it was a comfortable win but after the first lap I managed to establish a bit of a lead and kept that ticking over thereafter.
"Not all that many men have won this title on two or more occasions so that means a lot to me, my coach [Derek Easton] and my family.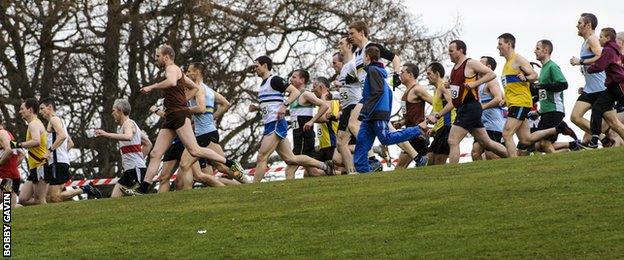 "I'm absolutely sure I will come back to try and win more in the future and if the weather is like it was this year then I will be back next year for certain."
Butchart finished ahead of Andy Douglas and Mark Mitchell, while Potter beat nearest challengers Fionnuala Ross and Rosie Smith and Olympian Freya Ross, who was fourth.
"I really enjoyed that," said Potter.
"My coach, Mick Woods, told me to sit in on the first lap and advised me not to make too much of a break or go off like a rabbit. In the end, that's exactly what I did. I just got up the first hill, felt pretty good and wanted to keep it going.
"Last year I went off quite fast, too, but I'd had one or two viruses around that time and had been unwell - so I could not sustain it, really.
"But I'd run well here in 2013 to win it and I do like Callendar Park. It has been such a good course for me over the years and, in terms of cross country, it just seems to be a place I love compared to one or two others courses.
"Down the years I've had a fair bit of success but every time it feels really special. There was such a big entry this year and it is great to see the senior women's race growing."