Isobel Pooley reflects on 'miserable' World Indoor Championships
Last updated on .From the section Athletics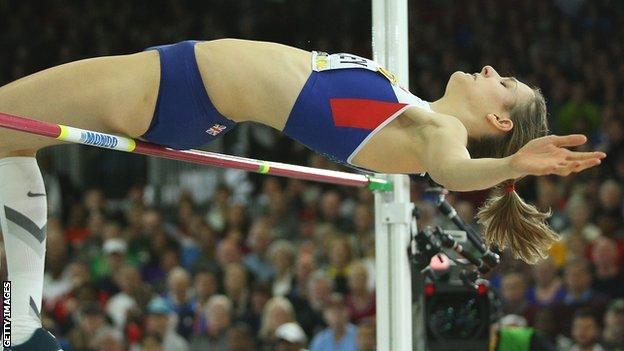 British high jumper Isobel Pooley is working towards a place in Team GB's squad for the 2016 Olympics.
The 23-year-old set a new indoor personal best of 1.93m at the Glasgow Indoor Grand Prix earlier this year, but could only come 10th at the Indoor World Championships in March.
In her latest column for the BBC Sport website, she discusses what went wrong in Portland, where she finds her inspiration and the "mundane" things professional athletes get up to.
The indoor season ended with the World Indoor Championships in Portland, Oregon, last month and - being honest here - I feel I could have done much better.
It was a terrific honour to be selected for the GB team but on the day of competition I struggled to execute any great jumps and finished in a miserable 10th place.
However, despite my poor performance, I'm still moving towards my ultimate goal of the Olympic Games in August and I have gained yet more experience of world-class competition.
We were a small team of 23 athletes and all knew each other pretty well to start with, which made for easy company and a great support network - handy when you are dealing with jet lag.
So, with a lot of time to kill what do athletes get up to? Well, I used it to explore the city of Portland and there were more than a few long, chatty meals.
I managed to frequent a book shop and found a second-hand copy of a book my mum had recommended: 'A God in Ruins' by Kate Atkinson. This book uses lots of lovely, unusual words so I'm constantly looking them up in an online dictionary - what a nerd, right?
Finding inspiration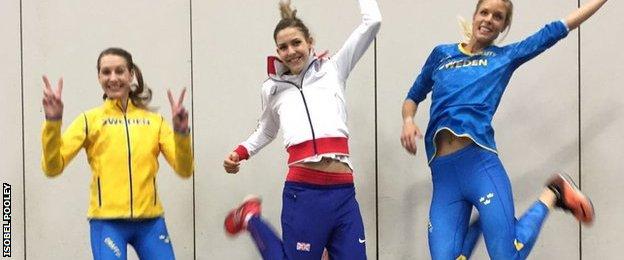 I spent a lot of time hanging out with Sofie Skoog, a Swedish jumper with whom I'd become friends a few years ago in her hometown of Karlstad where I'd been competing.
She's a wonderfully positive, upbeat person with a great attitude and it was a pleasure to spend time with her.
I found it inspiring when she told me she hadn't achieved international selection in high jump until the age of 25, which goes to show how vital perseverance is for success.
Jumping for silver joy in a dinner hall
The evening before my own competition, I was so proud to watch my training partner Robbie Grabarz win a silver medal in the men's event.
I'd opted to stay in the hotel in order to get an early night before my own competition but even watching it on the live stream online had my adrenaline pumping.
His majestic first-attempt clearance at 2.33m meant he was in the gold medal position, only to be surpassed in the final stages.
We were watching on a tablet computer in the dinner hall and I ate my food without even tasting it, leaving my seat to jump around in celebration when his medal was secured - although I did get a few funny looks for that!
Robbie's had a really tough time since the London 2012 Olympics, when he won bronze.
He's battled back from major knee surgery and I'm continually astounded by his strength of spirit. Part of me was gutted not to be there live, especially as I could hear the music from the medal ceremony from my hotel room, in spite of my ear plugs.
In any case, Robbie's strength continues to be my biggest source of inspiration.
Missed opportunity
I was surprised by how much I struggled myself when it was my turn to jump. I scraped over a couple of heights but never really executed a technically good jump.
I felt gutted not to have expressed myself properly through my performance, instead feeling as though I totally missed out on the satisfaction that comes with a great, powerful jump.
Finishing 10th was a massive disappointment but I have to remind myself that this was a World Championship final.
Apart from a missed opportunity I haven't lost anything and I have learnt something more about myself and what makes me tick.
A family escape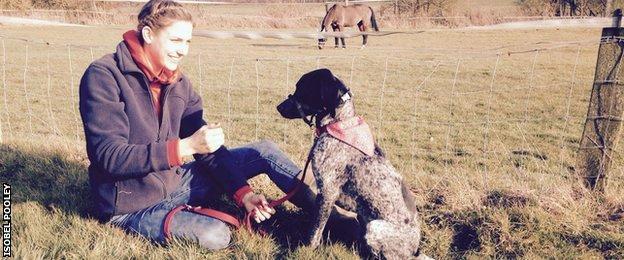 Returning to the UK meant heading back to my parents' house to spend my week off from training with them in Fleet, Hampshire.
They are my number one source of strength and support and so I wanted to spend every free minute being back in the fold of family life.
It was great to catch up with my 18-year-old sister Alice, who is revising for A-levels at the moment and thinking about which sport(s) she might like to do at university - she's 6ft 5in and the most determined person I've ever met, so watch this space.
Walking the dog, cooking and food shopping with mum might sound mundane but it was just the reassurance and comfort I needed before another challenging block of training.
We also went out for some delicious meals and had my granny to stay for the weekend - a great excuse for roast lamb and all the trimmings.
For something different I spent a morning in London with Long Tall Sally doing a photoshoot, which was a brilliant experience. I also did some filming for a cookery show - The Performance Kitchen - which was a great laugh and definitely something I'd like to do more of.
Now I'm back in Loughborough and already working hard again at training. I've got Doms (delayed onset muscle stiffness) in nearly every muscle group and am really looking forward to sleeping off my aches before we hit it hard in the gym again.