Ciara Mageean produces solid season's outdoor opener at Belfast International
Last updated on .From the section Athletics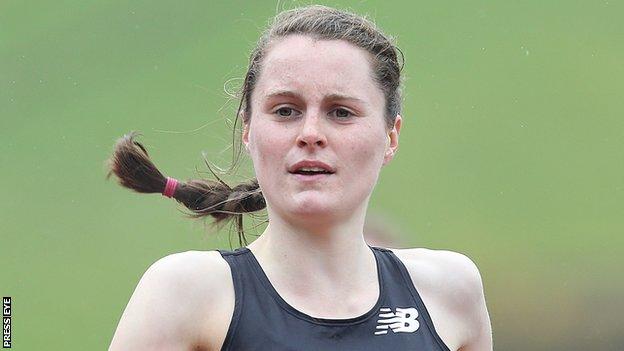 Olympics-bound Ciara Mageean ran a solid outdoor season's opener as she clocked 9:07.48 for 3,000m at a rainy Belfast International meeting.
Mageean, back at the Mary Peters Track where her talent was honed, was competing in a mixed race.
The Portaferry woman said afterwards she plans to compete at the European Championships prior to the Olympics.
David Gillick was second in the 400m in 47.24 as he continued a low-key return to competition after four years out.
Mageean found herself effectively running a time trial for much of her race as she was unable to keep pace with a number of male athletes.
However, the Dublin-based athlete professed herself content with her afternoon's work.
Mageean happy with Mary Peters Track return
"It was great to be back at the Mary Peters Track," said the 24-year-old.
Meeting director Eamonn Christie guided the county Down woman for several years in Belfast before she linked up with current coach Jerry Kiernan.
Gillick cut 0.81 seconds off the time he set in Italy last weekend as he finished exactly a second behind English winner Theo Campbell.
The 2005 and 2007 European Indoor Champion has said that he is running purely for enjoyment at the moment and insists that he has no targets.
Gillick set his Irish record of 44.77 in 2009, which was the year when he reached the World Championship final in Berlin.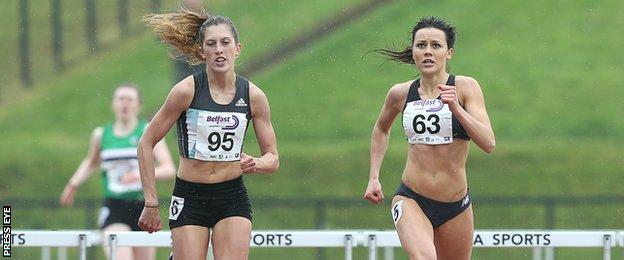 McMahon continues rivalry with Turner
European Championship 400m hurdles hopeful Christine McMahon continued her early-season rivalry with Jess Turner as the English athlete repeated her victory at last weekend's British Universities Championship.
Both athletes were some way down on their times of last weekend as Turner took victory in 58.12 ahead of McMahon (58.32) and another Irish international Jessie Barr (58.50).
Scotland's Katy Brown (2:04.05) won a competitive women's 800m ahead of Ireland's Laura Crowe (2:04.21) and England's Alexandra Bell (2:04.59).
Northern Ireland's 2014 Commonwealth Games semi-finalist Katie Kirk (2:05.92) had to settle for sixth spot, just behind City of Lisburn's world masters champion Kelly Neely (2:05.56).
Olympic Games 800m qualifier Ciara Everard (4:25.35) could only manage fourth in a women's 1500m won by England's Rowena Cole (4:19.58).
Talented Polish duo Kamil Gurdak (1:48.54) and Matusz Borkowski (1:49.17) duelled in a decent 800m race with Scotland's Cameron Boyek (1:49.41) also going under one minute, 50 seconds.
There was an English one-two in the men's 1500m with Dan Studley (3:45.77) holding off Richard Weir (3:48.40) and Ireland's Rory Chesser (3:50.31) completing the podium spots, with Annadale's James O'Hare (3:52.25) having to settle for sixth spot.
John Travers, meanwhile, won the men's 3000m in 8:03.69.