Isobel Pooley: Not diving like Tom Daley and not wasting breath on doping

By Isobel Pooley
Great Britain high jumper
Last updated on .From the section Athletics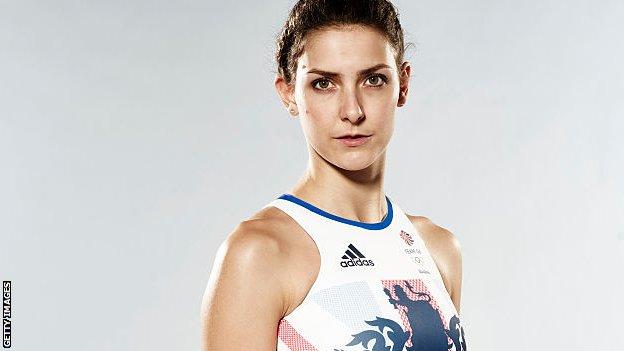 British high jumper Isobel Pooley is working towards a place in Team GB's squad for the 2016 Olympics and will be looking to secure her Rio place by winning the British trials next month.
In her latest column for the BBC Sport website, the 23-year-old has a go at diving like Tom Daley, discusses festivals and her own carnival time in Rio and refuses to give air time to those that dope following recent revelations.
'I won't waste my breath talking about doping'

I don't mind being tested as it helps to safeguard the integrity of the sport I love. It's part of the job.
I don't get involved with discussions about other athletes' activities or what should and shouldn't be done at an organisational level. I don't have the expertise to pass comment.
This is all I have to say about doping - I don't want to waste my breath. And besides, my focus is on competing at the Olympics!
Festivals? I have my own Rio carnival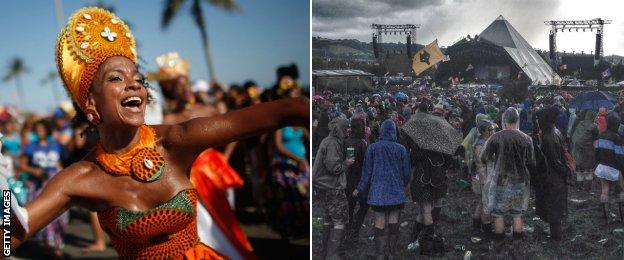 Before Rio, the summer brings an abundance of exciting events like festivals, shows, sports fixtures and family occasions. For me though, it's competing, travelling, training and recovering.
Of course, I've crowbarred in some time with my family, but otherwise it's almost a given that I'll be absent at all the BBQs, birthday parties and other special occasions.
However, the fact of the matter is that I'm preparing to compete at the Olympic Games - the biggest sporting spectacle on the planet.
Not many sportspeople have this within reach and I'd be crazy to complain about missing out on anything, given the stupendous opportunity I have. Viewed like that, the 'opportunity cost' diminishes to almost nothing and in reality I feel enormously lucky to be in the position I'm in right now.
Travelling around the world for elite competitions is the highlight of my sporting year. In the future I would love to go to Wimbledon and maybe go to a music festival (never been) or be a guest at a school sports day (so enjoyable but I'm always busy), and I'm really looking forward to doing these things when the time is right.
For now, though, I am determined to make the most of these precious years during which I have the chance to be a world-class performer in my own right.
Daily routine and the Daley routine
We've just come back from a training camp in Formia, Southern Italy. This was our first trip as a group for several years, which made the two weeks seem all the more precious.
The combination of warm, sunny weather and the friendly atmosphere at the track added to a general feeling of wellbeing that grew over our days away.
On training days we got used to having naps in the early afternoon between sessions, which meant we were able to reproduce maximum effort for every session. Days off were spent relaxing on the garden or on the beach - apart from one day-trip to Rome. This optimal way of life is something I intend to replicate as much as possible back home in the UK.
I know my diving isn't up to much but it was the only way I was going to brave the cold sea. Wading in from the beach was never going to work!
I'm certainly no Tom Daley! I actually met Tom in 2015 and he is really down to earth and genuinely friendly. Athletes from different sports will always have something in common but also have a different and interesting perspective on things.
This is why we can help each other and why multi-sport events like the Olympic Games are so special.

Fine weather, fine times and fine food
We mixed with lots of other athletes including the Italian high jumpers, some Swiss pole-vaulters and, on the last day, British sprinters Asha Philip, Adam Gemili and James Dasaolu.
It was great to be around other athletes outside of competitions, as everybody seemed far more relaxed and open than during the pressure-cooker of the season. We grew closer within our group and learnt a lot from each other in a way that we hadn't been able to during training hours at home.
British Athletics provided support in the form of therapists and our strength and conditioning coach Rob Miller, who oversaw our key gym sessions. While the heat is great for technical power work, it makes for some super-sweaty circuit training - especially core work!
Four of us stayed at a private villa and self-catered, which gave us the flexibility to eat what we needed to around training while also enjoying some delicious meals out in local, authentic Italian restaurants.
Our house special was our pre-training breakfast: eggs and smoked salmon on toast with fresh spinach. Prepared all together, it set us up for many long mornings of technical work before a big salad or pasta for lunch.
We had some stunning meals out too - one restaurant served up a huge selection of fresh seafood, which had probably been caught that morning. Totally mindblowing. On other evenings we went for the stereotypical Italian choices and weren't disappointed, sampling the best pizza and gelato in the whole town.
Fantastic Foxes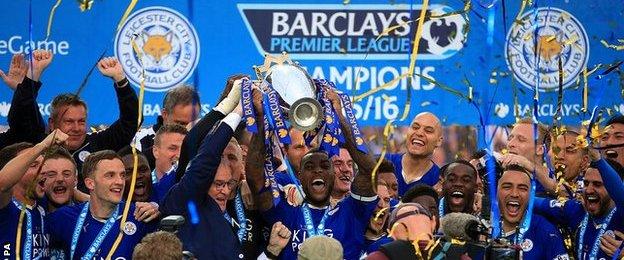 My uncle and cousins are lifelong Leicester City fans and it's beautiful to see the elation at their team's result. I'm enchanted by how their success against the odds has captured the nation's imagination and challenged the norm.
Our local team have done the unimaginable and really put Leicester on the map. This is such an inspiring story and holds significance for everybody who has a dream.