Rio 2016: Sergiu Ciobanu's appeal against Irish marathon omission to be heard
Last updated on .From the section Athletics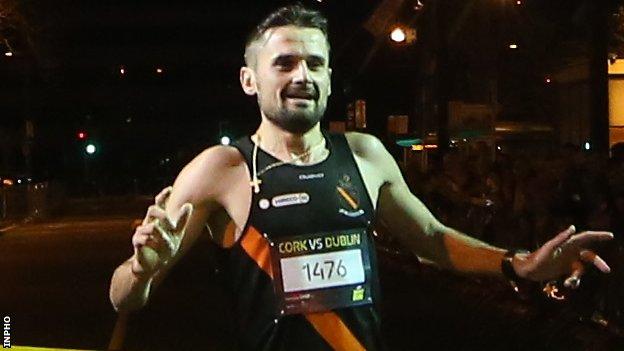 Sergiu Ciobanu's appeal against his omission from Ireland's Olympic men's marathon team will be heard by an independent panel later this week.
The former Moldovan runner, 32, missed out on one of the three places even though he was third fastest of the Irish qualifiers for Rio.
Fourth fastest Paul Pollock was chosen along with the two quickest qualifiers Kevin Seaward and Mick Clohisey.
Pollock's superb World Half Marathon run in March helped seal his spot.
The Holywood runner Pollock finished 14th in the Cardiff race as he came home in front of a large number of world class African athletes with bronze medallist Mo Farah the only European ahead of him.
However, Ciobanu's coach Jerry Kiernan has criticised "picking a marathon team on the basis of a half marathon".
"It's like picking someone who has run a 400m on an 800m team," Kiernan told the Irish Examiner.

However, it's likely that Pollock's impressive showing at the 2013 World Championships in Moscow, when he placed 21st, may also have been a factor in the thinking of the five-person Athletics Ireland selection committee.
Dublin Marathon race director Jim Aughney was joined by Eamon Harvey, Patsy McGonagle, Brid Golden and Paul McNamara on a panel which was chaired by Athletics Ireland's high performance director Kevin Ankrom.
Pollock, 29, set a personal best of 2:15.38 set in the Berlin Marathon last September but that was bettered by Ciobanu in the same race who 2:15.14.
Ireland's two other qualifiers also finished ahead of Pollock in the Berlin race with Belfast man Seaward clocking 2:14:52 and Clohisey posting 2:15.35.
Clohisey then edged ahead of Ciobanu in the Irish qualification picture when he produced a time of 2:15.11 in Seville in February.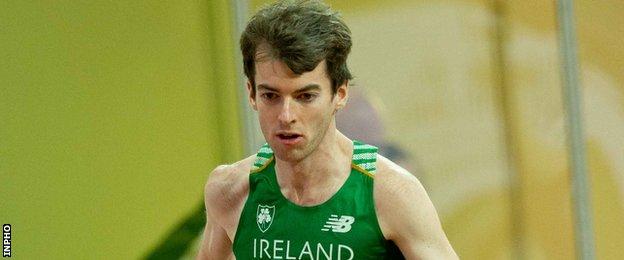 Pollock forced to miss London Marathon
Pollock hoped to improve his marathon time in London last month but he was forced to pull out because of a foot injury.
After withdrawing from the London race, Pollock told BBC Sport NI that he was hoping that his World Half Marathon performance and other runs this year would be enough to sway the Irish selectors.
Ciobanu has made clear his devastation at his omission.
"I have placed reliance of the published selection policy and have used that selection policy as the basis of my preparation for the Olympic Games," Ciobanu said on his Facebook page.
"It's disgusting to see that rules were not respected."
Ciobanu has also said that he feels his Moldovan background "cost me my place".
In response, Athletics Ireland said that they "categorically and completely reject any inference that an athlete's background was in any way a factor in the decision".
"The decisions were based purely on which athletes the panel believed would deliver the best performances at the Olympic Games."