Olympics 2016: Eilish McColgan breaking time and pain barriers for Rio
By Jane Lewis
BBC Scotland
Last updated on .From the section Athletics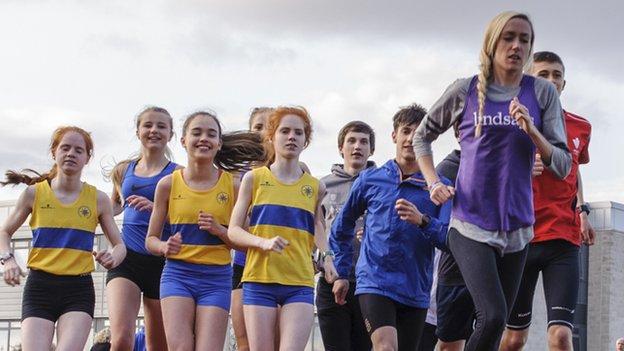 Eilish McColgan still feels pain when she runs - yet she has a great chance of qualifying for this summer's Olympics in Rio.
The 25-year-old was sidelined for a year as she battled an ankle injury and the problems that followed surgery.
"I had a lot of problems with nerve-related injuries from the initial surgery," McColgan told BBC Scotland.
"And, when I went to Kenya at the start of February, I was having real issues.
"I would be able to jog, but barely and through pain, and then have to take the next couple of days off again.
"It was affecting me even sleeping at night. Even moving the leg slightly, I was getting really bad shooting nerves pains, so it's been a difficult process and a long one."
During her struggle with injuries, she also lost her funding from UK Athletics.
Switch to 5,000m
But McColgan persevered and is back competing. She's switched from the 3,000m steeplechase to the 5,000m and has produced some remarkable performances.
In California earlier this month, she made her return to the track after 22 months and ran a personal best, comfortably meeting the Olympic qualifying time.
Switching from steeplechase - the distance at which she competed at the Olympics in London in 2012 - to 5,000m was something McColgan had been considering for some time.
However, it was while she was in Kenya that she made her decision.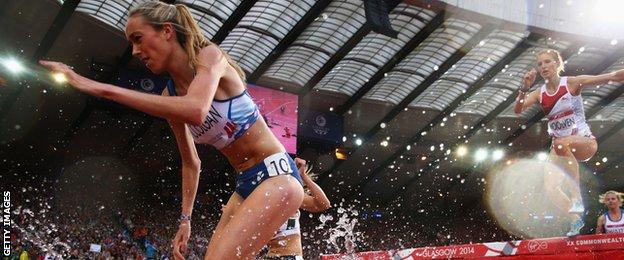 "It was at that point, I realised the steeplechase was definitely not going to be an option," she said.
"I eventually managed to get myself back running, but it was through pain.
"Even now, my ankle still isn't great, but I can run on it. I could probably do a couple of hurdles on it, but whether I could do an elite level steeplechase and jump 35 times on it is another question."
Now she's looking forward to the next chapter in her running career, which she hopes includes a place in Team GB and her second Olympics.
"It's exciting for me to be doing a new event," said McColgan. "I've done a lot of 1,500 and 3,000m in the past, but the 5k I've never properly attempted.
"I've done what I've needed to do. Now it's just about focusing on the Olympic trials in June."
Training push from Rio qualifiers
McColgan also says she feels more confident on the flat, both mentally and physically - a process helped by a training stint in Flagstaff, Arizona.
There, she trained with the likes of Beth Potter, a fellow Scot who qualified on Sunday for the Rio Olympics in the 10,000m.
"To be honest, right up until the end of February, I was thinking it's not going to happen," said McColgan of her Rio prospects.
"It wasn't until I went out to Flagstaff that things started to click a little bit.
"I started training with some of the girls who've actually made the team and I think that gave me a push."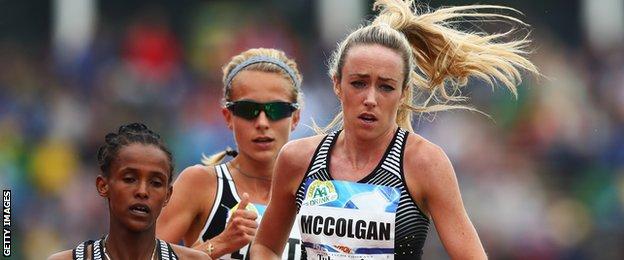 McColgan now heads to the Olympic trials in Birmingham at the end of June and is determined to finish in the top two, which would secure an automatic place in the GB team.
Among her rivals for a place are another two Scots - Steph Twell and Laura Whittle - who have also met the qualifying time.
"For me, it's about aiming for that top position and securing that spot," said McColgan.
"It's never easy to make an Olympic team. It's going to be tough at the trials, but I'm excited to be back racing."
Not about proving a point
The Scot admits that, if she makes it to Rio despite her injury troubles and funding cut, it will be "a bit more special" compared to making the team for London 2012.
She says all the bad times will be forgotten but will those who cut her funding be forgiven?
"For me, it was never about proving anyone wrong," she insisted.
"It was more proving to myself that I was right to make the decision to keep it going - to work hard, to cross train until I was blue in the face.
"It's more that your disappointed that people don't believe in you. I think that's one of the hardest things initially when you get kicked off.
"But it's made me a lot stronger. I don't need other people's recognition any more."
However, that recognition will come, and deservedly so, if she makes the team for Rio.