Isobel Pooley: Annie Mac, Monty Python and a positivity pick-me-up

By Isobel Pooley
Great Britain high jumper
Last updated on .From the section Athletics
In her latest BBC Sport column, British high jumper Isobel Pooley discusses how Annie Mac and Monty Python played their part in picking her up from an injury setback and keeping the Rio 2016 Olympic dream alive.
Persistent pain and Olympic injury stress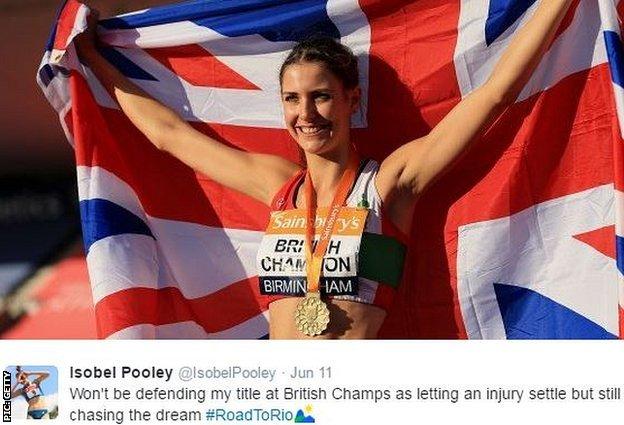 This month I've come up against a considerable new challenge on my prospective road to Rio. Just three weeks out from the British Championships I was diagnosed with a bone stress injury in my take-off ankle.
This explained the persistent pain I'd been experiencing which had caused me to withdraw from the Shanghai Diamond League and hampered my performance at the Eugene Diamond League in May. Obviously this is far from an ideal situation, but I am determined to see the positives and do whatever I can to keep my Olympic dream alive.
I am working with top medical professionals and sports clinicians with the aim of healing my ankle in time to compete at the European Championships in July and subsequently the Olympic Games in August. I have to compete well at the Euros to be eligible for Olympic selection.
Finishing in the top two at the British Championships would have guaranteed me a place in Rio, but I can still qualify if I prove my form at the European Championships.
Always look on the bright side of life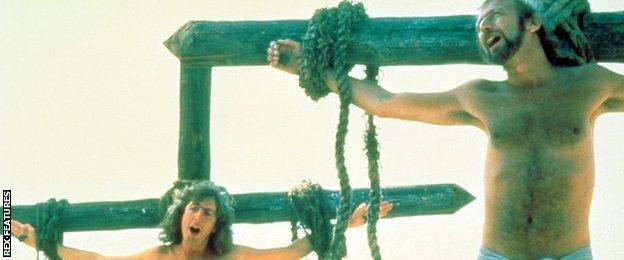 It was Fathers' Day recently and I chose to remind my dad of how he used to always whistle the tune to "always look on the bright side of life". At the time it wound me up but the moral has stayed with me as I'm always looking for the silver lining - there is always a positive. Above all, I love and value and appreciate myself and all that I have in life.
Take something good when it comes your way because you don't know when something bad is going to come - but it inevitably will. We all have huge reserves of positivity inside us, I realised this while sitting at a bus stop outside the London hospital where I'd just received the serious diagnosis.
In a moment when I teetered on the end of despair I felt a spark of brave optimism which I chose to embrace and welcome like sunshine on a winter day. I'm remaining as upbeat and pragmatic as I possibly can about this.
'Control what you can control'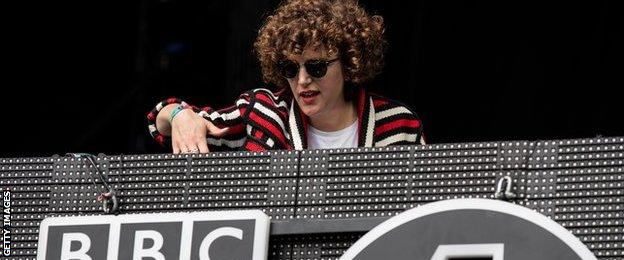 As athletes we are often told "don't worry about what you can't control". This simple advice can be so powerful. While you sometimes can't control the situation you find yourself in, you can always control your reaction to it and the actions you take.
If you let yourself be the victim of bad fortune you can quickly find yourself in a downwards spiral. Likewise, taking just a few proactive, determined and positive steps can move you miles away from the original problem and send you upwards on a new path to success.
The power to "turn things around" is so important, but I'm not saying this is easy! The other day I was on the edge of tears but a conversation with my coach prompted me to turn my thinking around.
The moment I came off the phone I put the radio on and embraced my renewed sparkle, turning the music up and dancing around my house! Life seemed good again once I had put my problems in perspective and brought success to the forefront of my thinking.
A bumpy road to Rio
I've gained a renewed appreciation for how incredibly difficult it is to get to the Olympic Games or any major championships. It's only when you hit a bump in the road that you realise how many pitfalls there along the path to success.
Olympians are part of a tiny fraction of all the athletes that started out in sport and have survived against all the odds to fulfil their ultimate dreams. When the going is good it's easy to be blase about success, when in reality one should really savour every accomplishment as you never know what is around the corner.
'I'm not accepting the burden of guilt or regret'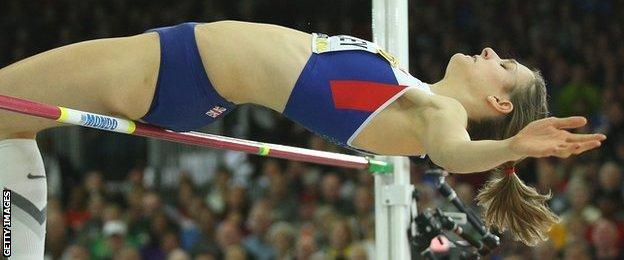 There is a saying that goes "just because it's stormy now, it doesn't mean you're not heading for sunshine". When faced with a threat, it's more important than ever to maintain a clear and strong picture of your goal.
I'm actually really relieved to have a clear picture of the situation. The most stressful thing for me is not knowing - I'm the sort of person who likes to understand things. It's been really helpful to have a plan of action and to know exactly what I can do and when to give myself the best chance of healing.
This isn't the first time I've experienced turbulence on this flight. Looking back at past challenges I can see that I'm getting better and better at handling them - keeping my head up and staying optimistic.
I feel as if I have taken this in my stride. I'm not accepting the burden of guilt or regret but I know how heavily these have weighed in the past. I know that the strength of my passion and character can overcome this.
Whatever the outcome when the Olympic team is announced on 12 July, I will have put my heart and soul into the fight for greatness.
Of course, there have been moments where I have felt overwhelmed by negative thoughts and allowed self-pity in. However, I know this won't help me and therefore I have to fight fire with fire and push those thoughts away with positivity and action.
Looking at things in perspective, my problems are minute compared with other hardships endured in the world. It's all relative.
In light of recent events, I'm really grateful for last year's experiences on the Diamond League circuit and for the wonderful day that I won the 2015 British Championships. These are such special moments. Furthermore, I'm looking ahead to the 2017 World Championships in London which will be a once-in-a-lifetime experience for sure.