Cameron Chalmers: Guernsey 400m runner prepared for final World Under-20 chance
Last updated on .From the section Athletics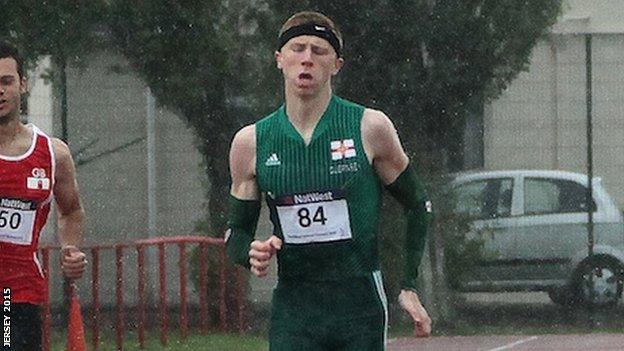 Guernsey 400m runner Cameron Chalmers believes it is "possible" for him to make the qualifying time for the World Under-20 Championships in July.
The 19-year-old will compete in Germany this weekend, his last chance to earn selection for Great Britain in Poland.
He needs to run a time under 46.5 seconds, almost four tenths better than his personal best, to secure a spot alongside the world's best juniors.
"I know I can do it, I just need to stick to the right race plan," he said.
"If I'm going to run quicker than I have before, I think I've got to make up the time in the first 200m."
Chalmers, who won the English Under-20 title last weekend, will be representing Great Britain in his first ever overseas meet and believes competing internationally may help him beat his personal best of 46.87.
"On the right day I think it is there and it is possible, but obviously I've got to go out and do it when it matters," Chalmers told BBC Radio Guernsey.
"It doesn't sound much at all but once you start getting quicker and quicker, finding three tenths or half a second becomes more challenging.
"With good conditions at an international meet, with high competition levels, I'll see what happens."