Alistair Chalmers: Great Britain Euro Youth selection was 'no gimme', says Tom Druce
Last updated on .From the section Athletics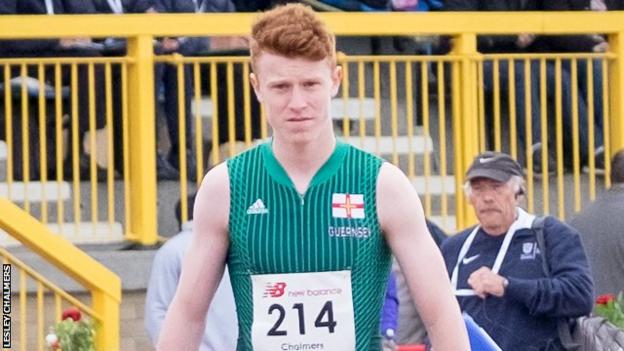 Guernsey record-holder Tom Druce says 400m hurdler Alistair Chalmers has had to earn his Great Britain selection for the European Youth Championships.
It is the first time the 16-year-old younger brother of fellow 400m runner Cameron Chalmers has been picked by GB.
"If they've picked him they obviously think he has a chance of sneaking a medal," Druce told BBC Sport.
"I think it was always a target for him but, that said, it wasn't a gimme for him at the start of the season."
Druce retired from athletics after the 2014 Commonwealth Games, but still holds Guernsey's fastest 100m, 200m and 400m times.
Cameron Chalmers is three years older than Alastair and will find out early next week if he has been picked for the World Under-20 Championships.
"Cameron hasn't been given any assurances about being in the squad, but has been told to prepare as if he'll be going," added Druce.
"Ala's been in the sport a bit longer - he's running faster than Cameron did when he was an under-17 and physically he's ahead of where his brother was.
"It's pretty much the pinnacle for someone from Guernsey to be picked in a Great Britain squad."