Cameron Chalmers: Guernsey 400m runner misses out on World Under-20 final
Last updated on .From the section Athletics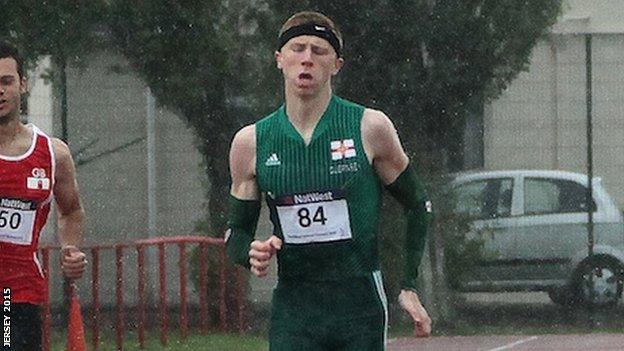 Guernsey 400m runner Cameron Chalmers narrowly missed out on a place in the Under-20 World Championships final.
The 19-year-old Island Games gold medallist came third in his semi-final in Bydgoszcz in Poland, but set a new personal best and island U20 record of 46.51 seconds in the process.
However, the Bath University student could switch to 800m next season.
"I think that the way he runs he would be a very good 800m runner," coach Dan Cossins told BBC Guernsey.
Cossins previously coached Guernsey's Dale Garland and Tom Druce while they studied at Bath.
"He needs to improve his speed for the 400m, but interestingly he's a similar type of athlete to Dale and Tom," he continued.
"I think probably as time goes on we'll just throw him in a few 800's and if he surprises us, maybe we'll go with that."
Whatever distance Chalmers ends up running, Cossins believes he has every chance to make the 2020 Olympic games in Tokyo if he keeps improving.
"He just needs to develop a bit more of an understanding of what it is to be a full-time athlete, and how you tie that in with his other responsibilities like university and balancing of personal life as well," he said.
"I think this year has been a bit of a surprise to him, so he's kept that junior-like way of preparing, although he's been better than lots who I've worked with in the past
"I've been lucky enough in the last few years to work with GB junior teams and be in close proximity with people like Matt Hudson-Smith (2014 European Championships silver medallist) and saw their progression, and I see lots of their strengths in Cameron, so I don't see any reason why couldn't push towards being that good."